The Bears on Sunday placed rookie safety Brandon Hardin on injured reserve, put receiver Johnny Knox on the physically unable to perform (PUP) list and cut 10 others.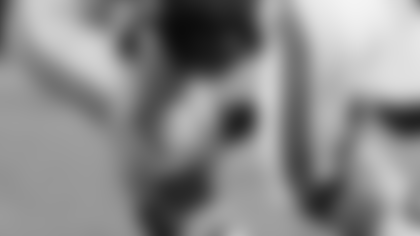 Safety Brandon Hardin suffered a neck injury on this tackle against the Redskins.
The team terminated the contract of vested veteran defensive tackle John McCargo; waived linebacker K.C. Asiodu, quarterback Matt Blanchard, safety Trevor Coston, receivers Terriun Crump and Chris Summers; and defensive ends Thaddeus Gibson and Derek Walker; and waived/injured linebacker Adrien Cole and guard Nick Pieschel.
Hardin sustained a neck injury Aug. 18 in the Bears' preseason win over the Redskins when he drilled tight end Logan Paulsen on a pass play over the middle. The third-round draft pick remained down for about 10 minutes. He was placed on a backboard and wheeled slowly off the field. Fortunately, Hardin never lost consciousness and didn't suffer any type of paralysis.
"It's disappointing," said coach Lovie Smith. "We had a plan in place for him, but injuries are a part of it. After you have a collision like that and you lay on the turf, him playing is not the first thing on your mind.
"I'm glad he'll be OK. But these things happen. As a rookie a lot of players have had to go on IR their first year and normally learn an awful lot from that year of being out of football."
When Hardin returns in 2013, he will have missed two straight complete seasons. He was sidelined all of last year as a senior at Oregon State with a shoulder injury.
Being placed on the PUP list means that Knox will miss the first six weeks of the regular season. The fourth-year pro was injured last Dec 18 in a loss to the Seahawks when he fumbled on a 17-yard reception over the middle.
Turning back toward the line to try to retrieve the ball, he was drilled by Anthony Hargrove, a 6-3, 272-pound defensive end who was charging downfield full speed. Knox's body bent back grotesquely, and he remained down for nearly 10 minutes before being removed on a backboard and taken to the hospital, where he underwent surgery.
The Bears' roster now stands at 76; they must cut one more player by 3 p.m. (CT) Monday before reaching the NFL's mandatory 53-man roster limit by 8 p.m. Friday. ![ ](http://www.phoenix.edu/campus-locations/il.html?utmsource=Story&utmmedium=instory&utmcampaign=300x100)