Kelvin Hayden made the most of his opportunity to work with the Bears' No. 1 defense Saturday, intercepting a pass and forcing a fumble early in practice.
The 10-year veteran is back competing for a roster spot after missing the entire 2013 season with a hamstring injury sustained last summer in training camp. On Saturday, he filled in with the first-team defense at nickel back for Tim Jennings, who sat out with a sore quad.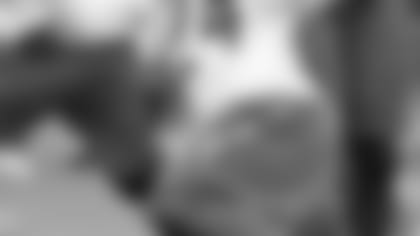 Kelvin Hayden intercepts a pass during practice at training camp.
"When we lose a player, somebody's got to step in and step in and make a play that can make a difference," said coach Marc Trestman. "We're excited to have Kelvin back. We missed him last year. He's back and he's worked very, very hard to put himself in this position to compete for a job on this team. It's good to see him have success today."
Hayden opened Saturday's practice with an impact play, intercepting a Jay Cutler pass in the right flat. The veteran defensive back later stripped the ball from receiver Micheal Spurlock.
"Any time the defense gets turnovers, it puts the offense in a better situation for us to win games as a team," Hayden said. "My goal is just to make as many turnovers as I can, just like anyone else on the team. Everybody wants to force turnovers. Everybody wants to win. The more turnovers we get the more chance we get to win."
Growing up in Chicago, Hayden was a big Bears fan. He attended Hubbard High School, Joliet Junior College and the University of Illinois. He originally signed with his hometown team in 2012 after spending his first seven NFL seasons with the Colts (2005-10) and Falcons (2011).
In his first season with the Bears in 2012, Hayden appeared in all 16 games with two starts. Supplanting D.J. Moore as the nickel back midway through the year, he tied for the NFL lead with four fumble recoveries while recording 40 tackles, one interception and three pass breakups.
Hayden was determined to build on that effort in 2013 before suffering a season-ending injury last Aug. 3 in the Bears' annual Family Fest practice at Soldier Field.
A year later, he's competing in a crowded defensive backfield that includes Jennings and last year's nickel back, Isaiah Frey. But Hayden isn't worrying about where he stands on the depth chart.
"I just want to go out there and give all I've got every day and everything else will handle itself," he said. "I try not to think about that stuff because I am getting the opportunity. Now that I have the opportunity, [I have to] just make the best of it."