As Kelvin Hayden's comfort level in the Bears defense has grown in recent weeks, the veteran defensive back has impressed coaches and earned more playing time at the nickel position.
"The more I'm inside the more I'm getting comfortable," Hayden said. "I just want to do my job the best way I can. Whatever the coaches ask me to do I'm willing and ready to do it. I just want to be a perfectionist. There's nobody perfect, but I just want to be the best that I can be out there."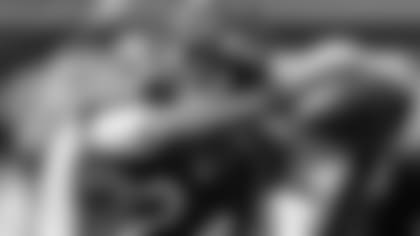 The Bears signed Kelvin Hayden in April to provide depth and competition.
Growing up in Chicago, Hayden was a big Bears fan. He attended Hubbard High School, Joliet Junior College and the University of Illinois. Hayden signed with his hometown team in April after spending the first seven NFL seasons with the Colts (2005-10) and Falcons (2011).

"He's a good veteran football player that has played a lot," said defensive coordinator Rod Marinelli. "He can play man coverage and he can really tackle in the run game. He is just another guy in the mix for us and he is a very good corner."

Hayden could see even more action in future weeks after recovering two fumbles in last Sunday's 51-20 blowout road win over the Tennessee Titans.

"Last year I played nickel in Atlanta, but it was a whole different scheme," Hayden said. "It was more of an attack 3-4. We had a sub 4-3 package, but it was nothing like this.

"It's just being on the details here. You have to know your job, know your responsibilities and do it well. That's when all the big plays come. It's nothing out of the ordinary that you're doing. It's just going out there and being on the details."

Welcome back: Receiver Alshon Jeffery practiced for the first time Friday-albeit on a limited basis-since suffering a hand injury Oct. 7 in Jacksonville. But the rookie second-round pick is listed as doubtful for Sunday night's home game against the Houston Texans.

"We're encouraged by Alshon," said coach Lovie Smith. "He was able to do a little bit today."

Defensive tackle Matt Toeaina (calf) is also listed as doubtful after not practicing Friday, while defensive end Israel Idonije (ankle) and defensive tackle Henry Melton (back) are probable.

For the Texans, nose tackle Shaun Cody (ribs) and running back Ben Tate (hamstring) are out; and tight end Owen Daniels (back) is questionable.

Almost there: Devin Hester likely would have returned a punt 52 yards for a touchdown in Tennessee had teammate Geno Hayes thrown a block instead of prematurely raising his hand in celebration. Hester was tackled from behind at the Tennessee 8.

"It was a nice return," Toub said. "It was good to see him plant a foot and burst and split the two cover guys like he did, like we've seen him do so many times before. It was good to see that.

"We've just got to get him in the end zone. We talked about celebrating too early. Geno had his arm up in the air before we were in the end zone. Next time we're going to get him in the end zone and there will be a lot of time to celebrate after that."

The closer: Bears quarterback Jay Cutler continues to lead the NFL with a fourth-quarter passer rating of 135.0, having completed 38 of 51 passes for 583 yards, eight touchdowns and two interceptions.

Asked to explain why his numbers are better in the final period, Cutler said: "We're playing with a lead. It's easy to predict what they're going to be in [on defense] when you're up 20 points. They've got to stop the run, so we're going to throw it outside if we have to make some plays and we're going to get one-on-one match-ups. Playing with a lead makes things a lot easier."

The Bears have led in six of their eight games entering the fourth quarter this season by margins of 20, 4, 14, 10, 13 and 25 points.