Having a healthy Leonard Floyd practicing at full speed has paid major dividends for the Bears.
Since returning from a calf injury that forced him to miss two games, the rookie first-round draft pick has registered 4.5 sacks and scored a touchdown in the Bears' last three contests.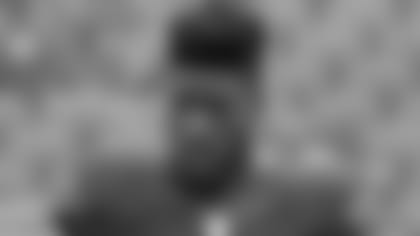 Bears rookie outside linebacker Leonard Floyd has recorded 4.5 sacks in his last three games.


"He's been playing and practicing, which has been interrupted for most of his season here until the last couple weeks," said defensive coordinator Vic Fangio. "This is probably the longest stretch of practice and the subsequent games that he's had since he's been here, so you're seeing progress on the field."
During the preseason, Floyd was slowed by an illness and injuries to his shoulder and hamstring, leading Fangio to describe the outside linebacker's performance as "choppy and inconsistent."
But now that he's healthy, Floyd has blossomed over the last three weeks. He registered two sacks in a loss to the Packers Oct. 20, one of which he turned into the Bears' first defensive touchdown of the season by forcing an Aaron Rodgers fumble and recovering it in the end zone.
The Georgia product followed with one sack and one tackle-for-loss in a win over the Vikings Oct. 31 and 1.5 sacks and one tackle-for-loss in last Sunday's loss to the Buccaneers.
Floyd, the ninth overall pick in the draft, leads all NFL rookies with five sacks, one more than the Chargers' Joey Bosa, the Jaguars' Yannick Ngakoue and the Buccaneers' Noah Spence.
"I've said all along there's an uncoachable skill set that he has," said coach John Fox. "It's just a matter of time until he gets comfortable in what we're asking him to do and our terminology, really even the pace and speed and strength of the game at this level.
"I've seen steady improvement with him since he's been here and since he's been healthy enough to be out there and practice and hone his skills. He'll continue to improve. He's going to be a very, very good young player."
Bleacher Report analyst Chris Simms is also very high on Floyd, calling him "a freak athlete" who is "a more athletic Aldon Smith," referring to the former 49ers star linebacker. Watch Simms video