After being hampered by an ankle injury that kept him out of all but one practice the last couple weeks, Brandon Marshall finally feels like Brandon Marshall again.
"I feel great," the Bears' Pro Bowl receiver said Friday. "I can pretty much do everything."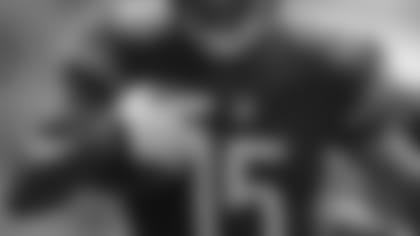 Wide receiver Brandon Marshall leads the Bears with five touchdowns this season.
Marshall has not missed a game since initially hurting his ankle in the season opener against the Bills. But he has practiced only once—and that was on a limited basis—since aggravating the injury in a Week 2 win over the 49ers, a game in which he caught three touchdown passes.
"I wasn't really able to run back then, so we did some good things last week that really sped up the process and now I feel like I can do pretty much everything," Marshall said. "Before I couldn't jog without pain. So it feels good to be able to go out there and get back to the old days."
Marshall returned to the practice field this week, participating in workouts Wednesday, Thursday and Friday without limitations in preparation for Sunday's game against the Panthers.
"It feels good to go out there and be back with the guys," Marshall said. "After a while you kind of get out of shape a little bit and I feel like I got my wind back and feel more explosive, so it's good. I can get in and out of my breaks, so it'll be hard for guys to sit on me."
After catching 13 passes for 119 yards and four touchdowns in the first two games, Marshall was limited to three receptions for 25 yards and one TD the last two weeks while slowed by his injury. Tight end Martellus Bennett helped pick up some of the slack in the last two games, catching 14 passes for 188 yards and two TDs.  
"That's what's great about our offense," Marshall said. "You have Alshon [Jeffery] go down the first game with a hammy and then later on in that game I go down with an ankle, and Marty gets more targets and Marty starts to carry the offense in the passing game for the last few weeks.
"That could be Alshon, that could be me, that could even be Kyle Long in the passing game. We have a special group that can do it all."
Even with all the weapons, the Bears offense hasn't resembled the unit that helped the Bears rank second in the NFL in 2013 with 445 points and set franchise records with 6,109 total yards, 4,450 passing yards, 32 passing touchdowns, a 96.9 passer rating and 344 first downs.
"We have a deadly offense and it's funny because we haven't really lived up to our full potential," Marshall said. "I really believe in the next couple weeks we'll probably hit full stride. If we continue to hang in there and continue to get better every single play, every single week, I think in the next couple weeks we'll put it all together."