Having top receivers Alshon Jeffery and Eddie Royal healthy again has provided a huge boost to a Bears offense that struggled when they were sidelined with injuries.
"The guys are listed as starters for a reason," said coach John Fox. "When they're out—not that the other guys can't function—but having the starters out there is beneficial."
After missing four games with a hamstring injury, Jeffery returned with a vengeance Oct. 18 in Detroit. The four-year veteran showed his game-changing ability by catching eight passes for 147 yards and one touchdown in a 37-34 overtime loss to the Lions.
With Jeffery's presence giving the Bears more of a vertical passing game, Jay Cutler completed 26 of 41 yards for 353 yards, his highest output in 16 starts dating back to last season.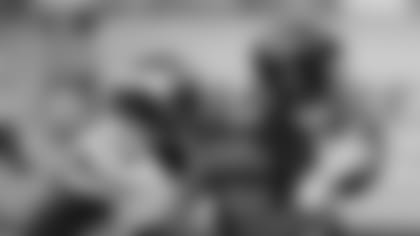 Wide receiver Alshon Jeffery caught eight passes for 147 yards and one touchdown against the Lions in Week 6.
"Getting Alshon back does make a difference because it does open up things down the field because he can make unscheduled plays and Jay can make unscheduled plays with him," said offensive coordinator Adam Gase.
The Bears forced overtime in Detroit on Robbie Gould's 29-yard field goal as time expired in regulation after Cutler had completed passes of 25 and 24 yards to Jeffery on back-to-back plays.
"He made a great catch on the first one and then Jay really dropped it in on the second one," Gase said. "Both of those guys made great plays. The protection was great. He had time, and sometimes when you're in those situations and you've got to have it, you're just hoping the protection holds up and we make a good throw and good catch—and those two guys did that."
Jeffery's size and leaping ability give the 6-3, 216-pounder an advantage over most defenders.
"Size I think is big," Fox said. "The catching radius. He's able to separate with his length; a lot of your big-time guys have that ability. That's probably the biggest thing. He's got deceptive speed because of that length. He's a good ball-getter."
Jeffery hopes to build on his performance against the Lions Sunday when the Bears host the Vikings. It'll be the first time he plays back-to-back games this season. The South Carolina product missed the entire preseason with a calf injury, returned to catch five passes for a team-high 78 yards in a Week 1 loss to the Packers, and then got hurt again a few days later in practice.
Jeffery established himself as one of the NFL's premier receivers the past two seasons, ranking fifth in the league with 2,554 yards during that span. In 2013, he recorded the top two most prolific games by a receiver in Bears history with 249 yards against the Vikings and 218 versus the Saints. Jeffery also has compiled the second most and eighth most yards in a season by a Bears receiver with 1,421 in 2013 and 1,133 in 2014.
After teaming with Brandon Marshall during his first three NFL seasons, Jeffery is paired with Royal this year. The eight-year veteran caught five passes for 49 yards against the Lions after missing the previous game a week earlier in Kansas City with an ankle injury.
Royal's most productive NFL season remains his rookie year, when he caught 91 passes for 980 yards and five touchdowns while teaming with Cutler in Denver in 2008.
Asked how they're both different seven years later, Cutler said: "We're all a little bit older, maybe not as fast, and a little bit wiser. But Eddie does a great job out there. I think he knows coverages a lot better than he did when we were in Denver.
"He's still dynamic on the outside. On the inside, he's grown a lot. He wasn't that type of player when we had him in Denver. But now you can line him up inside. He understands defenses, how to get open. We need to find ways to get him the ball more actually."
After the Bears topped 30 points in Detroit for the first time since 2013, Cutler is eager to build on that success with Jeffery and Royal both at his disposal for just the third time this year.
"It helps," Cutler said. "Anytime you can get your crew back together and the guys you feel comfortable with, it's going to make Adam's job easier. It's going to make me comfortable. At this point now, we've just got to put it together and find a way to improve in the red zone and keep limiting our turnovers as much as possible."