Bears defensive tackle Henry Melton will miss the rest of the season after suffering a torn ACL early in the fourth quarter of Sunday night's 40-23 win over the Steelers in Pittsburgh.
Melton was being blocked by an offensive lineman while rushing the quarterback when his left knee buckled. He was carted off the field and will undergo surgery in a few weeks.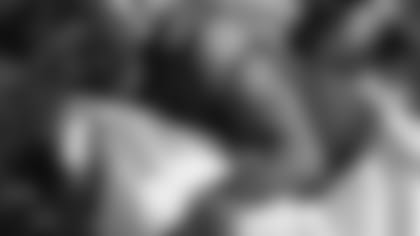 Henry Melton sacks Vikings quarterback Christian Ponder last season in Chicago.
"He's terribly disappointed," coach Marc Trestman said Monday. "We've just got to let this settle for a while. We lost a very good player. Unfortunately, it's a next-man-up situation where the next guy has got to come up and be ready to play and help our football team.

"We're not happy about it, but this is the downside of the National Football League is players are going to get hurt and the team has got to respond."

On his Twitter account Monday, Melton wrote: "Thanks for all the love and support. Today starts a new day for a different journey God has planned for me. I WILL be ready next season, but in the meantime I will grind harder than ever before and cheer on my Bears to the [champion]ship. Everything happens for a reason."

Melton was selected by the Bears in the fourth round of the 2009 draft out of Texas. The 6-3, 295-pounder had a breakout year in his first season as a starter in 2011 when he recorded a career-high seven sacks, the third most by an NFL defensive tackle.

Melton was voted to his first Pro Bowl last season after registering 33 tackles with six sacks, five tackles-for-loss, a team-high 24 quarterback pressures and two forced fumbles. His 13 sacks since 2011 are the second most among NFL defensive tackles behind the Bengals' Geno Atkins (21).

After being sidelined for a month this summer after suffering a concussion in the preseason opener, Melton recorded three tackles in the Bears' first two games of the season. He stepped up his play Sunday night in Pittsburgh, helping account for two of the defense's five takeaways.

Melton pressured Steelers quarterback Ben Roethlisberger into throwing a pass that Major Wright intercepted and returned 38 yards for a touchdown in the second quarter. Melton later recovered a Felix Jones fumble that led to a Robbie Gould field goal early in the second half

Melton's injury leaves the Bears with three healthy defensive tackles: Stephen Paea, Nate Collins and undrafted rookie Zach Minter, who has been inactive in each of the first three games.

"We've got some work to do," Trestman said. "We'll talk about that today. We've got a lot of confidence in Nate and we'll see where we are with our practice squad guys and we'll do some talking. We just found out this morning. Over the next couple days, we've got time here to make some decisions and see where we are and the direction we want to go."

Paea has excelled in the first three games, recording six tackles, half a sack, two tackles-for-loss and a team-high six quarterback pressures.
"I think Stephen's been as productive as any defensive lineman that we've had for the first three games," Trestman said of the 2011 second-round pick. "He's moving the front, he runs to the ball, finishes. I think he's had a very good first three games."
Regardless of how the Bears fill the void, they will miss Melton's presence.
"He's a guy who adds a lot to your locker room in terms of personality," Trestman said. "He's a very good player and a guy who has continued to get better coming off his concussion in training camp. But this is really what the NFL is. Guys get hurt and guys have got to come in.
"They're the next man up, and Nate can do that. He's an active player, he's got a good motor. He'll mix it up in there. He's a finisher, so we're lucky to have Nate right now. We'll continue to try to piece together our front with the guys we have and we'll decide over the next 24 hours where we're going to go for next week."