Devin Hester's record-breaking career with the Bears is over.
The team thanked the 31-year-old return specialist for eight great seasons while informing him that he will not be re-signed. Hester will become an unrestricted free agent March 11.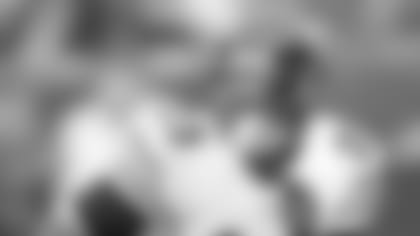 Devin Hester was voted to three Pro Bowls in eight seasons with the Bears.
"For the past eight seasons we have been honored to have Devin Hester as a part of our organization," Bears general manager Phil Emery said in a statement. "While Devin has redefined the pinnacle standard of the return position in the NFL, the memories and contributions he has given us cannot be measured by stats or numbers.
"Not only is Devin a special player, he is also an exceptional person. He is a great teammate, husband and father. Devin represented the organization off-the-field as well as he did on it. When his career is over, he will always be a welcome member of the Bears family. We thank him for his dedication and wish him and his family all the best."
In eight seasons with the Bears, Hester became the NFL's all-time leader with 18 kick return touchdowns and 13 punt return TDs. He also tied Hall of Famer Deion Sanders' career mark of 19 return touchdowns, which includes punts, kickoffs, missed field goals, fumbles and interceptions.
Selected by the Bears in the second round of the 2006 draft out of Miami (57th overall), Hester was voted to three Pro Bowls, won 13 special teams player of the week awards and was named to the NFL's All-Decade team for the 2000s by the Associated Press and ESPN.
Hester acknowledged his departure from the Bears on his Facebook page, writing: "To all my Chicago people, I can't thank you enough for my time in Chicago. I've always said I wanted to retire a Chicago Bear but sometimes things don't work out the way we would like. Chicago will always hold a special place in my heart and if I am fortunate enough to break the return record, we will have all broken it together no matter where I am. Thank you again and God bless."
Hester made an immediate impact with the Bears, setting an NFL single-season record with five kick return touchdowns as a rookie in 2006 and then eclipsing the mark with six TDs in 2007.
Hester enjoyed a magical rookie season. He returned a punt 84 yards for a touchdown in a 26-0 win over the Packers in his first NFL game; lifted the Bears to stunning 24-23 comeback victory over the Cardinals with a late 83-yard punt return TD; and set a single-game franchise record with 225 kickoff return yards in a win over the Rams, including TDs of 94 and 96 yards.
Hester then capped the year by becoming the first player in NFL history to return the opening kickoff of a Super Bowl for a touchdown, dashing 92 yards in an eventual loss to the Colts.
After a two-year touchdown drought on special teams in 2008-09, Hester returned three punts for scores in 2010 and two punts and one kickoff for TDs in 2011. The past two seasons, however, he brought back only one kick for a score, an 81-yard punt return last season in Washington.
In 2013, Hester ranked sixth in the NFL in kickoff returns with a 27.6-yard average. He leaves the Bears as the franchise's all-time leader in punt return yards (3,241), kickoff return yards (5,504), total kick return yards (8,745), punt returns (264) and kickoff returns (222).
After playing sparingly at cornerback as a rookie, Hester was switched to receiver in 2007. Over the next six seasons he caught 217 passes for 2,807 yards and 14 touchdowns. His most productive season as a wideout came in 2009 when he had 57 receptions for 757 yards and three TDs.
Hester was not part of the offense in 2013, playing exclusively on special teams.