The history that Akiem Hicks had in New Orleans with Bears general manager Ryan Pace helped lure the free-agent defensive end to Chicago.
Hicks, who signed a two-year deal with the Bears Monday, was selected by the Saints in the third round of the 2012 draft when Pace was part of the team's personnel department.
"It was a great benefit to us having a relationship beforehand and definitely one of the reasons that I considered making the visit to Chicago and really one of the final reasons that I made my decision to become a Chicago Bear," Hicks said on a conference call with the media.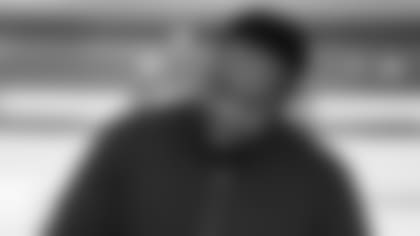 New Bears defensive end Akiem Hicks signs his two-year deal at Halas Hall.


The 6-5, 324-pounder spent his first four NFL seasons with the Saints (2012-15) and Patriots (2015), appearing in 61 games with 33 starts and recording 140 tackles, 9.5 sacks and 22 tackles-for-loss.
Hicks arrived in Chicago Friday and spent the weekend meeting with Pace, coach John Fox and defensive coordinator Vic Fangio before agreeing to terms Sunday night.
"For where I am at in my career, I feel like Chicago will be a great place to push forward and to be a part of a winning organization and really get an opportunity to be successful," Hicks said. "I guess the pitch was pretty normal, but I was a believer and definitely look forward to this season."
Hicks was traded from the Saints to the Patriots last Sept. 30 and appeared in the final 13 games and two playoff contests with New England, recording 21 tackles and three sacks.
The Patriots had been trying to re-sign Hicks, and the 26-year-old was also attracting interest on the free-agent market from the Lions before he decided to join the Bears.
"Opportunity is the biggest thing that I wanted to have in the organization that I chose to be with," Hicks said. "I wanted to have an opportunity to play and play a lot and be a part of a team that has a legitimate chance to win."
The Bears met all of those requirements, especially after bolstering their defense in the first few days of free agency by signing inside linebackers Danny Trevathan and Jerrell Freeman.
"It's a team that's building and working towards a goal and is bringing in pieces and blocks in order to be successful," Hicks said. "I definitely enjoy the aspect of being a part of that, being the beginning of something great here in Chicago.
"They have been and are still currently making great decisions in order to bring players and the coaching staff and everybody to this organization to build something great here in Chicago. I'm a believer. I've seen some of the moves that they've made and I've seen the way that they've gone about business and I'm excited to be a part of that."
Hicks is eager to play for highly-regarded defensive coordinator Vic Fangio, who helped the Bears defense improve from 30th in total yards in 2014 to 14th last year.
"When I look at some of the players that he's had in the past, I'd definitely say that I'm comfortable to that as far as my leverage and my length and my capability to play multiple positions," Hicks said.
"If anything, I'm pretty excited to see how I will fare in his defense. He's had a great track record of making successful defensive linemen and successful defenses as a whole. I'm just excited to be under his tutelage and to learn from a great mind in the NFL for a number of years."
Asked what he will bring to Fangio's defense, Hicks said: "I'm a hard worker. I believe in the process and I'm ultimately a team guy. I just believe in my team and will do anything and everything for a teammate and for us to come out each Sunday with a positive outcome."