It's difficult to miss new Bears defensive end Akiem Hicks on the practice field, and not only because the 6-5, 336-pounder appears to be about as big as a minivan.
Since the first training camp practice Thursday in Bourbonnais, Hicks has routinely made plays against both the run and pass—and screamed at the top of his lungs to celebrate.
"That's just natural," Hicks said. "I get excited pretty easy."
In Saturday's practice, Hicks would have sacked Jay Cutler (if quarterbacks weren't off limits to contact) and also chased down speedy running back Jeremy Langford on a screen pass, shouldering him to the ground 30 yards downfield.
"He's explosive and big," said coach John Fox. "Those are the attributes that help when you match up. I've been very impressed. I think he came back in great shape. He made a few hustle plays [Saturday] that caught my eye."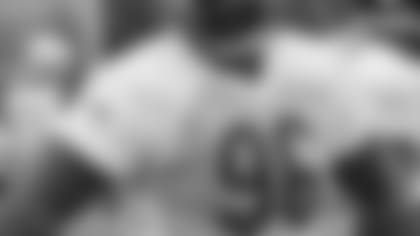 New Bears defensive end Akiem Hicks on the practice field.


Hicks' presence on the defensive line should help create room for inside linebackers Danny Trevathan and Jerrell Freeman to roam free and make tackles.
"The man's a mountain who's hard to move," Trevathan said. "I like to have big d-linemen in front of me, a hungry guy who's just a mauler. He's going to move stuff for me. He's going to make it clear. I have to make sure I can let him make some plays, too.
"He's quicker than I thought, and that's my mistake, judging him [prematurely] like that. But he's quick and he's a beast. It's going to be fun working with him."
Hicks was selected by the Saints in the third round of the 2012 draft when Bears general manager Ryan Pace worked in New Orleans' personnel department. Hicks appeared in 48 games with 33 starts in three-plus seasons, recording 6.5 sacks.
A regular starter since the beginning of his second season in 2013, Hicks was traded to the Patriots last Sept. 30 in part because the Saints had switched to a 4-3 defense last year and he wasn't a great fit.
While it was difficult to join a new team three weeks into the regular season, Hicks benefitted from returning to his natural position. Playing in the final 13 games of the season and two playoff contests for the Patriots, he recorded 21 tackles and three sacks.
"In New Orleans—and you hate to point fingers and I'm not—but things changed," Hicks said. "I was being played in positions that weren't exactly beneficial to my style of play and body type. For the good of the team I took that and tried to make the best out of it. But going to New England and being back in a system that really works to my strengths, it was a lot more comfortable and I think it was evident in my play."
The chance to continue his career in a 3-4 scheme under highly-regarded coordinator Vic Fangio made the Bears an appealing destination for Hicks in free agency.
"This kind of reminds me of 2013 when I was in New Orleans and being able to adjust and go inside sometimes, go back outside so they can't really get a bead on you," Hicks said. "Vic's defense in general, it makes guys look good."
Entering his first season with the Bears, Hicks is eager to help the defense create an identity in training camp.
"For our defense, it's important that we go out there and actually put some stuff on tape so we start to create an identity and become the type of defense that we want to be.
"We need to make sure we're putting things on tape so we can look back at it when the preseason comes, the season comes, and we can say, 'This is who we are and this is what we're going to put out there.'"