Bears defensive end Akiem Hicks has been selected as the NFC Defensive Player of the Week for his performance in last Sunday's 26-6 win over the San Francisco 49ers.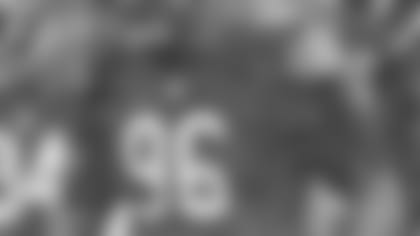 Bears defensive end Akiem Hicks has been selected as the NFC Defensive Player of the Week.


Hicks recorded a career-high 10 tackles and matched a personal best with two sacks, increasing his season total to six sacks, the most in his five-year NFL career.
"I think he's done well," said defensive coordinator Vic Fangio. "It's a credit to him, a credit to [defensive line coach] Jay [Rodgers]. Akiem has kept improving throughout the season. He's been one of the guys that has been there each and every week, playing a lot of plays for us and he's been a steady bell cow for us in there."
Hicks was selected by the Saints in the third round of the 2012 draft when Bears general manager Ryan Pace worked in New Orleans' personnel department. Hicks was traded to the Patriots last Sept. 30 after the Saints had switched to a 4-3 defense.
A natural 3-4 end, Hicks appeared in 13 games and two playoff contests for New England last year, recording 21 tackles and three sacks. The Patriots tried to re-sign him, but the 6-5, 336-pounder opted to ink a two-year contract with the Bears on March 13.
Through 12 games, Hicks leads Bears linemen with 39 tackles, is tied for the team lead with eight tackles-for-loss and eight quarterback pressures and tops the defense with two forced fumbles.
Productive rookie: After failing to take advantage of a couple opportunities in the first half against the 49ers, Floyd recorded two sacks in the second half, including one for a safety.
"What was impressive about Leonard was being able to put maybe a couple of not some of his better plays behind him," said coach John Fox. "I thought he responded really well in the second half."
Floyd leads all NFL rookies with seven sacks, despite missing three games—two with a calf injury and one with a concussion. He has not played more than four straight contests this year.
"So far he hasn't even touched the surface of what we might be able to do with him overall and it's because of the lack of consistency due to the injuries," Fangio said. "But we've given him a little bit more each and every week he's played. He had that nice long stretch where he was practicing and playing and then he had the New York injury where he missed a week."
Making strides: Fangio was impressed with how rookie inside linebacker Nick Kwiatkoski performed against the 49ers. Making his second straight start, the fourth-round draft pick from West Virginia registered nine tackles, two tackles-for-loss and two pass breakups.
"I thought he did well," Fangio said. "He played good, which usually happens your second start. I think he's coming into his own and I hope to see marked improvement a little bit each and every game moving forward. But I was pleased with his play."
Not happy: Rookie defensive end Jonathan Bullard conceded that he was upset about being a healthy scratch against the 49ers: "If you're not, you're not a competitor," said the third-round pick from Florida. "Who wants to stand on the sideline on game day?"
Though Bullard described the benching as a minor setback, he admitted that he was surprised to be deactivated and vowed to use the slight as motivation.
"I've definitely got to go out and prove something that obviously they haven't seen yet and make the most out of what I get," Bullard said. "I don't really get that many reps in a game anyway so when I do I've got to make the most out of them and be more productive."
Fangio told reporters that Bullard has responded in a "very mature, professional way," adding that "he knows he needs to improve in some areas. We've talked to him about that. He's asked about it. It's been good."