The most pleasant surprise from the Bears' 2016 free-agent class was defensive end Akiem Hicks, who had a breakout season in his first year in Chicago.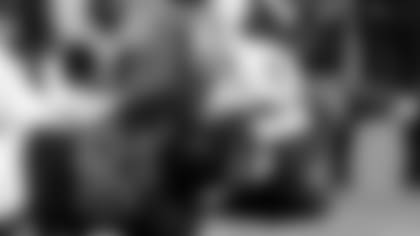 Veteran Akiem Hicks was the only member of the Bears defense to start all 16 games in 2016.


The fifth-year pro set career highs and led Bears defensive linemen with 71 tackles, seven sacks, three pass breakups and two forced fumbles while starting all 16 games. For his performance, ChicagoBears.com has named Hicks the Bears' defensive player of the year for 2016.
"He's done well," defensive coordinator Vic Fangio said late in the year. "Akiem has kept improving throughout the season. He's been one of the guys that has been there each and every week, playing a lot of plays for us and he's been a steady bell cow for us in there."
Hicks was selected by the Saints in the third round of the 2012 draft when Bears general manager Ryan Pace worked in New Orleans' personnel department. The 6-5, 336-pounder was traded to the Patriots early in the 2015 season after the Saints had switched to a 4-3 defense.
A natural 3-4 end, Hicks appeared in 13 games and two playoff contests for New England last year, recording 21 tackles and three sacks. The Patriots tried to re-sign him, but he opted to ink a two-year contract with the Bears on March 13.
Hicks immediately brought emotion and a swagger to the Bears defense, something he first showed in training camp—most notably when he screamed after flattening tight end Martellus Bennett during a joint practice with the Patriots in New England.
"He just plays with an attitude, an attitude that you want your d-linemen playing like," said inside linebacker Jerrell Freeman. "It's not just him, but him being him, he's just one of those guys that demands attention. He just thinks he's the best thing smoking out there and he's going to play like it, too."
Hicks' best game of the season came Dec. 4 when he recorded a career-high 10 tackles and matched a personal high with two sacks in a 26-6 drubbing of the 49ers—a performance that earned him NFC defensive player of the week honors.
"He does have that size, which is beneficial in the run game," coach John Fox said in December. "He's been a good run-stopper all season. He's fit really well for us as far as his physical stature. But he does have pass rush ability [too]. So he's got a combination of both. He's been a good get."