Veteran defensive end Akiem Hicks was elated when he heard in January that first-year head coach Matt Nagy was going to retain highly-respected defensive coordinator Vic Fangio.
"I was juiced," Hicks said Tuesday as the Bears kicked off a voluntary three-day minicamp at Halas Hall. "I texted him right away because I was excited. It's a nerve-wracking time for us, just not knowing what's going to happen in the front office and stuff like that. As a player, you don't have any involvement in that, but you're excited when you get a guy back like that."
Fangio returns for his fourth season with the Bears. He helped transform a unit that had ranked 30th in the NFL in total yards in each of the two years before he arrived into a defense that finished 14th in 2015, 15th in 2016 and 10th in 2017.
Last season Fangio led a unit that ranked ninth in the league in fewest points allowed and recorded 42 sacks, the second most by the Bears in the past 20 years. The feat was even more impressive given that the defense was decimated by injuries throughout the season.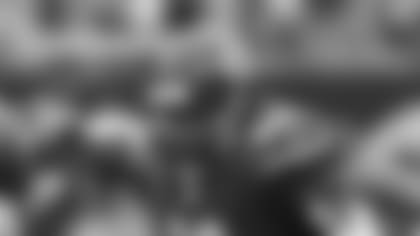 DE Akiem Hicks rushes the quarterback during a 2017 game.


Asked what he likes most about Fangio, Hicks said: "No BS. He's to the point. Either you did it or you didn't. He's not afraid to call you out. He's not afraid to pull you to the side. It just depends on what's needed of you during that week or that game. I really embrace him as our defensive coordinator and my defensive coordinator."
After spending his first four NFL seasons with the Saints and Patriots, Hicks has blossomed while being tutored by Fangio the past two years in Chicago. The 6-5, 336-pounder established a career high with seven sacks in 2016 and eclipsed that mark with 8.5 in 2017.
"He's always pushing me and I appreciate that, someone that believes in you," Hicks said. "That's been one of the biggest turning points in my career is just having a defensive staff and personnel department that believes in me. When someone believes in you, that just pushes you that much harder."
Hicks is confident that the continuity Fangio provides will help the Bears defense continue to improve and become a top-five unit in the NFL.
Other key defensive players who are entering at least their third year in Fangio's system include linemen Eddie Goldman and Jonathan Bullard, outside linebackers Leonard Floyd and Sam Acho, inside linebackers Danny Trevathan and Nick Kwiatkoski, and safety Adrian Amos.
"I think we're going to be even more tailored to our personnel, honestly, and just knowing what guys are good at and I think that's going to be a benefit for us," Hicks said.
"I look at some of those offensive guys and I feel bad for them because they've got to go put in a whole new system in. Just being an older guy, you recall things a little bit faster because you've been through it now going on my third year in the system."