The Bears signed Domenik Hixon to a one-year deal Thursday to provide quality depth at receiver, but the 6-2, 192-pounder will also compete for a job as a return specialist.
"We're certainly going to give him an opportunity to return some kicks in practice and see what it looks like in the preseason," general manager Phil Emery said during a conference call.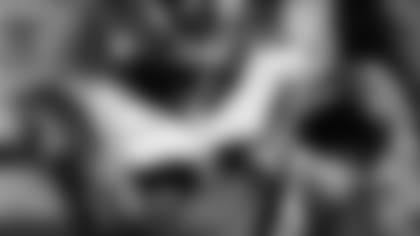 Domenik Hixon
Hixon excelled as a return specialist early in his career. As a rookie with the Giants in 2007, he returned a kickoff 74 yards for a touchdown in the regular season finale against the undefeated Patriots, and then averaged 25.3 yards on 10 kickoffs in the post-season en route to a Super Bowl championship.
Hixon continued to return kicks for the Giants in 2008-09 before his career was interrupted by injuries. He missed the entire 2010 season after tearing his ACL during a minicamp practice and then returned in 2011 only to rupture the same ACL the second week of the season.
Hixon rebounded in 2012 to catch 39 passes for 567 yards and two touchdowns in his final year with the Giants. But he was limited to seven receptions for 55 yards and 1 TD last season with the Panthers.
Hixon hasn't returned kicks on a regular basis since 2009, but he's confident that he can help the Bears in that role. The team is looking for a replacement for Devin Hester, who was not re-signed.
"I like special teams," Hixon told ChicagoBears.com. "I enjoy that aspect of it, especially returning the football, and hopefully I can step in and do that."
Hixon entered the NFL with the Broncos in 2006 as part of a draft class that included quarterback Jay Cutler in the first round, tight end Tony Scheffler in the second, and receiver Brandon Marshall, defensive end Elvis Dumervil and Hixon in the fourth.
Unfortunately, Hixon wasn't able to develop much of a bond with Cutler and Marshall because he spent the entire 2006 season on the non-football injury list after breaking his foot during his Pro Day workout. He was then waived after playing in the first four games in 2007.
"It was a little short-lived for me, but it was one of those deals where I felt and still feel the draft class that we had there was probably one of the best that Denver has seen," Hixon said.
In joining the Bears, Hixon is excited to compete for a receiver position behind Marshall and Alshon Jeffery while also playing for such a storied franchise.
"I'm extremely excited," Hixon said. "You've got two guys who play at a very high level and you have a very explosive offense and that's something I would like to be a part of.
"[Joining the Bears] was just very appealing to me, and with the fan base that Chicago has and just the atmosphere, I remember playing against the Bears in their stadium and just how important football is to [Bears fans]. The whole situation seems great."
In signing Hixon, the Bears are trying to create competition on offense and special teams.
"We like his size," Emery said. "He has huge hands, great straight-line speed and he's been a good [special] teams player. He's returned kicks. So it's up to him to find his spot on the squad. That opportunity is there."