Solidifying the position is important to defensive backs coach Jon Hoke, who is eager to see how all of the team's young safeties perform in Thursday night's preseason opener against the Denver Broncos.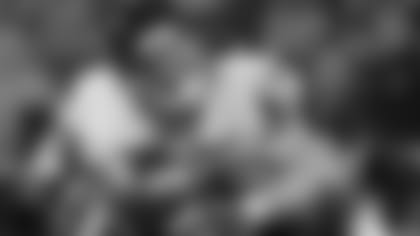 Bears safety Chris Conte intercepts a pass in a win over the Buccaneers last October in London.
"We just want to see where they're at from where they were a year ago," Hoke said, "see how much they've improved, and then from the [rookies] we want to see where they're at, how much they've observed and how much they can execute on the field."

Wright and Conte have been working at strong and free safety, respectively, with the No. 1 defense in training camp. Hardin (free) and versatile fourth-year pro Craig Steltz (strong) are the second-teamers.

Wright has had trouble staying healthy since he joined the Bears, missing five games as a rookie in 2010 with a pulled hamstring and four contests last year due to neck, hip and shoulder injuries.

"He's been dinged up a bit," Hoke said. "There's no doubt about it. The healthier he stays the more reps he's going to get, and the more he's going to keep getting better. One thing about football is it's a rep game. You've got to play it to get better and he needs to stay on the field."

Conte impressed as a rookie last year, recording 47 tackles and one interception in 14 games with nine starts before he too got hurt, missing the final two contests with an ankle injury.

The 6-2, 203-pounder benefited greatly from participating in OTAs and minicamp this year after the offseason program was canceled due to the NFL lockout in 2011 when he was a rookie.

"He's made a big jump; just his confidence level, his command of the defense, knowing what we're doing," Hoke said. "He's definitely way ahead of where he was a year ago."

Hardin has impressed in practice. But playing in his first NFL game is an entirely different challenge.

"Absolutely he's going to be wide-eyed," Hoke said with a smile. "He's doing a good job so far. It'll be interesting to see how he adapts to a game. He's done well in practice, understanding concepts and what we're trying to get done. Now how he executes in the game is going to be big." [ ](http://www.phoenix.edu/campus-locations/il.html?utmsource=Story&utmmedium=instory&utmcampaign=300x100)
Like every player, Hardin will be graded on his assignments, alignment and technique.
"We're always going to start there," Hoke said. "And then how productive he is. You're going to want to grade him on how he does when he's at the point of attack. Is he in the proper position? Does he have the proper leverage when he makes his tackle? How is he as a tackler?"
Hoke is also excited to see how undrafted rookie safeties Jeremy Jones and Trevor Coston fare Thursday night.
"They're all going to be interesting [to watch] because we've never really seen them in a real game in person that way," Hoke said. "One thing I'm pretty sure they're going to do is run around, and hopefully they're going to make tackles and hit somebody."