The following is the ninth of 10 stories featuring Bears coordinators and position coaches.
Jon Hoke can relate to the players he coaches because he once stood in their shoes.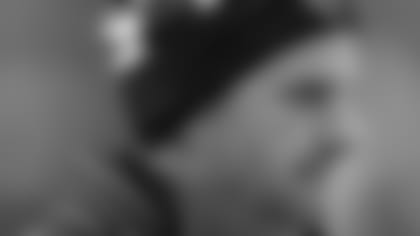 Bears defensive backs coach Jon Hoke can relate to the players he coaches because he once stood in their shoes.
Entering his fifth season as Bears defensive backs coach, Hoke appeared in 11 games as a reserve cornerback with the team in 1980, recording seven tackles. Six of those stops came in a 10-6 loss to bruising running back Earl Campbell and the Houston Oilers at Soldier Field.
"I wasn't here very long, but I had a great time," Hoke said. "I had great teammates and enjoyed the city of Chicago a lot. So for me to be able to come back [to coach], it's a big deal."
Hoke enjoyed spending his only NFL season as a player in Chicago, teaming with future Hall of Famers Walter Payton, Dan Hampton and Alan Page.
"I was a rookie who had been picked up off waivers from the Kansas City Chiefs, so I was more in awe than anything else," Hoke said. "It was a great experience."
Hoke was part of a Bears team that recorded a thrilling comeback win over the Lions on Thanksgiving Day in Detroit as Vince Evans scored a touchdown with no time remaining to tie it and Dave Williams followed by returning the overtime kickoff for a touchdown.
Later that night after arriving back in Chicago, Hampton had Hoke over for Thanksgiving dinner.
"It was a pretty neat experience," Hoke said. "Dan was very kind to me. He kind of looked out for me, which I was very much appreciative of."
Last season was also a neat experience for Hoke, who helped Charles Tillman and Tim Jennings become the first cornerbacks from the same team to start in the Pro Bowl since Hanford Dixon and Frank Minnifield of the Cleveland Browns in 1988.
In 2012, Tillman became the first cornerback in Bears history to be voted to back-to-back Pro Bowls. He tied for the NFL lead with three interception return touchdowns and led the league with a career-high 10 forced fumbles, tied for the most since the NFL starting tracking the stat in 1991.
Jennings, meanwhile, established a career high with nine interceptions, becoming the first Bears player to lead the NFL in picks since Mark Carrier had 10 in 1990.
Before joining Lovie Smith's staff with the Bears in 2009, Hoke spent the previous seven seasons as defensive backs coach with the Texans from 2002-08.
Prior to that, he worked as a defensive assistant in college at Bowling Green (1983-86), San Diego State (1987-88), Kent State (1989-93), Missouri (1994-98) and Florida (1999-2001).
With the Gators, Hoke spent three seasons as defensive coordinator/secondary coach while also serving as assistant head coach in his final two years.
Asked what he enjoys most about coaching, Hoke said: "Just the ability to teach players the game of football and to see players improve. To me, that's the most fun part of it."