The assimilation process continued Tuesday for new Bears receiver Santonio Holmes, who impressed teammates and coaches in practice for the second straight day.
"He looks good," said quarterback Jay Cutler. "He's explosive. He obviously knows how to play football. He's been around a long time, been in a few different systems and been successful.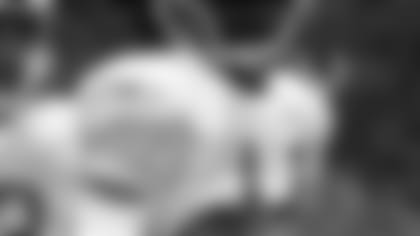 Receiver Santonio Holmes practiced Tuesday for the second straight day.
"It's just a matter of getting him caught up with our verbiage, how we like to do things, the little tweaks that we like, and just kind of get in a rapport with him timing-wise. It takes time, though."
Holmes, 30, signed with the Bears Saturday after spending his first eight NFL seasons with the Steelers (2006-09) and Jets (2010-13), catching 381 passes for 5,963 yards and 36 touchdowns. Last season he had 23 receptions for 456 yards and 1 TD in 11 games.
The Bears hope that Holmes will eventually compete for the No. 3 receiver position, a job that Marquess Wilson had all but wrapped up before breaking his collarbone Aug. 4 in practice.
It remains to be seen, however, whether the two-and-a-half weeks before the Sept. 7 regular-season opener is enough time to get Holmes up to speed with the offense and ready to contribute.  
"We'll find out," Cutler said. "I think it is. We might have to help him along in the huddle and make sure he knows what he's doing. But we've got enough veteran guys. We can get him to where he needs to be."
Offensive coordinator Aaron Kromer is confident that Holmes can gain a firm enough grasp of the system to earn the third receiver position behind starters Brandon Marshall and Alshon Jeffery.
"Santonio is a seasoned veteran who understands offenses," Kromer said. "So as soon as he learns, he changes his English to Spanish and understands our route concepts and how they fit together and what things mean, it would be an advantage to everybody if he was [the third receiver]."
It's not yet known whether Holmes will play in Friday night's preseason game in Seattle.
"I can't say that right now," coach Marc Trestman said Tuesday after practice. "We're trying to get him to that place. I think I'll know a little bit more after practice [Wednesday]. We'll see where he's at. We'll talk to him and we'll see if he's ready to go and get some playing time.
"He did get work [Tuesday] and he worked with different groups. So he got some reps and I thought he worked positively. I thought there were some good things out there."
Trestman doesn't want to insert Holmes into a game without him possessing a firm grasp of the offense, especially in a noisy road stadium in Seattle.
"I just want him to feel comfortable, to be able to go in there and perform and not put our team in position where his mistakes would create mistakes around him," Trestman said. "We don't want that to happen. We want to give him the best chance to succeed on an individual basis as well."
Holmes has had some issues with teammates and brushes with the law in the past, but Cutler is confident that Bears general manager Phil Emery did his due diligence before making the move.
"I think it's a good sign that we'll take some chances on some guys and we'll bring some guys in because we know we've got a strong veteran group here and some guys that will help young guys or veteran guys along," Cutler said.
"Just knowing Phil, I am sure he did his background on Santonio and talked to him numerous times and talked to his agent and was very sure when he brought him in here what kind of player and person he was getting."