CLEVELAND – Having ended their preseason Thursday night with a 33-13 loss to the Browns, the Bears can now turn their attention fully to next Sunday's regular-season opener against the Bills.
But there's still one order of business remaining this weekend, with the Bears needing to trim 22 players from their roster by 3 p.m. Saturday to reach the NFL's 53-man limit.
"I think that at this point we've got a good idea," said coach Marc Trestman. "We're going to talk about it over the weekend, make some decisions, put this 53 together and decide who the 46 [active on game day] are going to be and we'll start from them."
One of the Bears' most intriguing positions is receiver, especially with veteran Santonio Holmes and first-year pro Josh Bellamy performing well Thursday night against the Browns.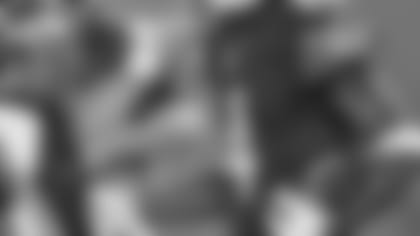 Santonio Holmes celebrates with David Fales after the two connected on a 32-yard touchdown pass in Thursday night's preseason finale in Cleveland.
Holmes seemingly enhanced his chances of earning a job by showing explosive big-play ability with a 32-yard touchdown reception and a 30-yard punt return. Bellamy, meanwhile, caught four passes for 78 yards—including a leaping 32-yarder—in the first half.
Holmes gave the Bears a 10-7 lead early in the second quarter when he caught a David Fales pass at the Cleveland 24, spun away from cornerback Justin Gilbert and raced down the sideline.
"It was a slant route," Holmes said. "I felt the coverage of the defender playing a little bit over the top and just made a great play afterwards and finished strong."
"You see the explosion in him," Trestman said. "He caught a short throw, turned and ran, separated from the defense. That's a good sign."
After the Bears went three-and-out, Holmes fielded a punt, made the first man miss, broke a tackle, darted up the middle and dashed down the left sideline to the Cleveland 40. The return led to Robbie Gould's 23-yard field goal, giving the Bears a 13-7 lead with 7:20 left in the half.
"I just know as a punt returner and being a veteran and doing it for so long," Holmes said, "you get good blocking from the guys up front first and foremost and you hit the hole fast and get what you can get out of it."
After Gould's field goal, it was all Browns. Cleveland scored on five straight possessions as Johnny Manziel threw a 1-yard touchdown pass to tight end Jim Dray and Billy Cundiff booted field goals of 22, 37, 47 and 29 yards without a miss to turn a 13-7 deficit into a 26-13 lead.
Rookie quarterback David Fales played the entire game for the Bears, completing 13 of 24 passes for 146 yards with one touchdown, one interception and a 69.1 passer rating. In the first half, the sixth-round pick connected on 11 of 17 passes for 129 yards with 1 TD and a 107.2 rating.
While the Bears rested all of their starters and many of their second-stringers, the Browns played their first-teamers on both sides of the ball in the first quarter.
"I think that was a great opportunity for our guys to play against 'ones' and to put effort, fundamentals and technique on tape," Trestman said. "I'm going to be excited to take a look at it.
"It seemed reasonably competitive in the first quarter on both sides. I know they had a drive and we moved the ball a little bit. We'll look at the tape. I think it was a good opportunity for guys to match up against the talent that they brought to the game."
After having the weekend off, the Bears will return to the practice field Monday to begin preparing for their regular-season opener against the Bills at Soldier Field.
"I think we're in a pretty good place right now," Trestman said. "The guys are confident. We know we've got talent in our locker room. We've got to play well on Sunday and we're going to do everything we can to get that done as we work through the week."