The Bears returned to the practice field Monday after having four days off. But for the team's newest player, the layoff was a whole lot longer.
Ziggy Hood, who signed with the Bears last Thursday, worked out for the first time since injuring his foot Sept. 3 in the Jacksonville Jaguars' preseason finale.  The veteran defensive lineman spent the first six weeks of the season on injured reserve with the Jaguars before being released last Tuesday.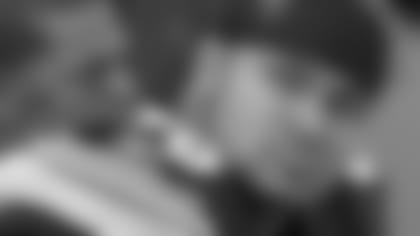 Ziggy Hood spent the first six weeks of the season on injured reserve with the Jacksonville Jaguars.
"It was a blessing just to get back on the grass with the team and get back and get that feel," Hood said. "It had been a long, long stretch for six weeks. But I'm glad I got the opportunity to come back and play."
Hood spent his first six NFL seasons with the Steelers (2009-13) and Jaguars (2014) after being selected by Pittsburgh with the 32nd pick in the first round of the 2009 draft. He has played in 96 games with 46 starts, registering 164 tackles, 12.5 sacks, 17 tackles-for-loss, 24 quarterback hits, five fumble recoveries and seven pass breakups.
"He's got a lot of skins on the wall," said coach John Fox. "He's played a lot in this league at a high level. Once healthy—I think he's pretty far along in that process—I think he's a frontline defensive lineman."
Hood is pleased with how he has recovered from the foot injury.
"I feel pretty good," he said. "They're doing a great job easing me back into it. It's just getting my wind back up. But other than that, I'm OK so far."
Hood is excited about joining coordinator Vic Fangio's 3-4 defense.
"It's similar to what I used to play at Pittsburgh," Hood said. "I assume that's why they gave me a call, so I'm going to do whatever I can to play and help this team win."
Although Hood is a veteran, he feels he must prove himself to his new teammates.
"I've got to start from [square] one," he said. "I didn't have the luxury of coming in for OTAs, training camp and mandatory workouts to meet the guys. I'm just thrown into the fire with the guys. So I've got to build their confidence, build their trust and basically earn it."
Hood said that other teams expressed interest in him after he was released by the Jaguars. But he felt the Bears offered the best opportunity.
"A few teams called, but this was my first stop," Hood said. "I found out what the circumstances were and I felt like this was a good place for me to start, to have a chance to play a majority of snaps once I get back fully healthy."