Since he was in diapers, Bears rookie safety DeAndre Houston-Carson seemingly has been destined to become a professional football player.
The first signs appeared when he was just over a year old and would constantly watch tape from his father's days as a running back at Slippery Rock. According to his mother, Christina Carson, DeAndre would raise his hands above his head and shout "touchdown!"
"He had a little rocking chair and sat in front of the TV watching football," Christina said. "I have a picture of him running around with his little football. People that knew him back all that time, he always had a football in his hands."
The football that Houston-Carson carried with him everywhere had a Jets logo on it. He wasn't a fan of the Jets but wanted a green ball because that's Slippery Rock's main color.
When Houston-Carson first started playing organized football in third grade, he'd practice in his backyard every day after school all by himself.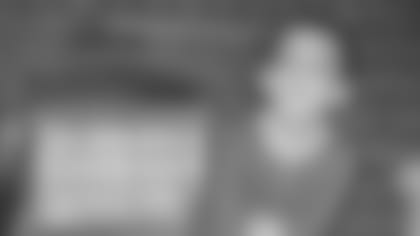 Bears safety DeAndre Houston-Carson was two years old in this photo, which shows the football that never left his side.


"He would be walking himself mentally through all of the plays," Christina Carson said. "I remember one of his coaches saying he's such a tremendous athlete. I looked at him and said 'but what you don't see is that he goes out and works every day for at least an hour.'"
After starring at Massaponax High School in Fredericksburg, Va., Houston-Carson headed to William & Mary, where he appeared in 45 games over four seasons and registered 293 tackles, 11.5 tackles-for-loss, 10 interceptions and 34 passes defensed. He also excelled on special teams, blocking nine kicks.
After playing cornerback his first three seasons, Houston-Carson moved to safety as a senior and compiled a team-high 109 tackles and four interceptions, returning one 94 yards for a touchdown. In the process, he became just the third player in the 122-year history of his school's football program to earn consensus first-team All-American honors.
Despite that success, Houston-Carson was not selected in the first five rounds of this year's draft. When the sixth round began, he took a walk with his mother on a dirt road near their home.
"It was really nerve-wracking," she said. "We thought he was going to go earlier. Safeties were going and he still wasn't going and that was stressful. So he and I took a walk. We were just trying to get him out of the house."
During their walk near a pond and open field, the Bears called Houston-Carson to inform him that they were going to select him in the sixth round.
"We saw that someone was calling from Illinois," Christina said. "I was jumping up and down and he was smiling at me. He was really excited. We pretty much almost skipped all the way back. We were pretty happy."
What made the moment even more special for Christina was that she has been a Bears fan ever since reading an article about George Halas in the early 1980s.
"I read a story in Reader's Digest at my aunt's house about Papa Bear Halas and that became my team," she said. "It was just his integrity that really made me want to root for the team. They've just been my team forever.
"So it was really exciting for me [when the Bears drafted Houston-Carson]. The Bears were nowhere on our radar screen. I had no idea where he was going to go. The fact that it was my team, it was just all perfect."