Having scouted Lamarr Houston at the University of Texas and with the Oakland Raiders, Bears general manager Phil Emery sees a talented defensive end who has improved every season.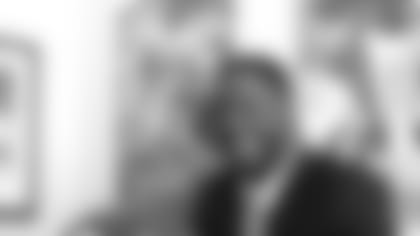 Lamarr Houston signed a five-year contract with the Bears at Halas Hall on Wednesday.
The Bears agreed to terms with Houston on a five-year contract Tuesday and introduced him to the media Wednesday at Halas Hall along with another free agent signee, safety Ryan Mundy.
"Lamarr has matured into a very versatile, powerful, tough, physical, productive player, and we're very happy to have him as a member of the Chicago Bears," Emery told reporters.
Houston, 26, appeared in all 64 games with 60 starts over the last four seasons with the Oakland Raiders, recording 226 tackles, 16 sacks, one interception, five passes defensed, 37 tackles-for-loss, four forced fumbles and six fumble recoveries.
The 6-3, 302-pounder appealed to the Bears in part because his 136 tackles over the past two seasons are the most in the NFL by a defensive end in a 4-3 system. Plus he compiled those stats while playing all four defensive line positions and lining up in a two-point and three-point stance.
"I liked that versatility, liked the fact that he can slide inside and rush," Emery said. "He's rushed at the three-technique and the nose and right [end] and left [end].
"That type of versatility really fits into where we're trying to go with our defense. This is a strong, tough, physical long-armed player who can play multiple positions, which helps you in terms of disguising what you're going to do. You don't have to substitute for him."
Houston is eager to play different spots in coordinator Mel Tucker's defense.
"I believe that coach Tucker is going to put me in the best position to make plays, whether that's inside or out," Houston said. "I think it's going to be a great fit for me, being able to do things that make the defense more versatile rather than having to make too many changes."
In the past, Houston has lined up in different stances depending on the situation.
"When I play in the two-point, it works in my favor because I have a lot more vision throughout the play and I can see things develop quicker in front of me and see where I need to be in there to disrupt that play," he said. "Out of the three-point, it's just all about explosiveness and power."
Last season Houston started all 16 games for the second straight year, establishing career highs
with 69 tackles and six sacks while also recording two forced fumbles and one fumble recovery.
"He's a good pass rusher," Emery said. "When I looked at him versus the players that we have on our team, his two-year combined total disruptions is higher than anybody on our team.
"I know I've used that word disruption and there are a lot of variations of what that means. We use STATS Inc. as our provider for those independent stats and we've done research from 2008 on. When a pass play is performed without pressure—without a knockdown, hit or sack—the percentage of completion is about 64 percent. When there's a sack, obviously it goes to 0.
"But with a hit or a pressure, it goes to 38.5. So those are significant when you talk about disruptions of a passer, and he certainly has had those."
Houston is excited about the opportunity to raise his game to the next level with the Bears.
"They believe in what I can do," he said. "They have a use for my skillset and I think doing that is only going to help me get better and improve my game. I'm looking forward to the future here with the Bears and I want everybody to know that the Monsters of the Midway are back."