The Bears enter their bye week focused on rebounding in the second half of the season following a disappointing 3-5 start. But they'll have to do so without two key starters.
Defensive lineman Lamarr Houston and left guard Matt Slauson are both out for the year after suffering injuries in Sunday's disastrous 51-23 loss to the New England Patriots.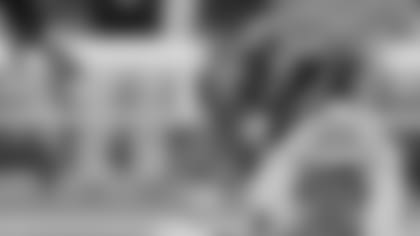 Lamarr Houston sits on the field after tearing his ACL in the fourth quarter of Sunday's loss.
Houston, one of the Bears' key offseason acquisitions, tore his right ACL while celebrating his first sack of the season—when the Bears were trailing by 25 points in the fourth quarter.
"We're disappointed for him and in him," said general manager Phil Emery. "He knows he made an error. He's come into all of our offices and apologized for his error. But ultimately the team paid a price and at the end of the day Lamarr paid a bigger price; he lost the season."
Through the first seven games of the season, Houston had recorded only eight tackles. But he was tied with defensive end Jared Allen for the team lead with 14 quarterback pressures.
After sacking Patriots backup quarterback Jimmy Garoppolo, Houston jumped in the air to celebrate and landed awkwardly, crumpling to the ground as his leg buckled. The five-year NFL veteran later conceded that "I probably shouldn't have celebrated like that, but it happens."
"Lamarr had built up some frustration from not having a sack yet," Emery said. "We were very pleased with his play against the run and he led our team in hits on the quarterback, but he hadn't had a sack. Obviously that's a big stat in the NFL. It's awfully big for a free agent coming in. When he got his first sack, he let out all of his frustrations and ultimately paid a price for it."
Houston will undergo surgery once the swelling goes down and will face a 6-8-month rehabilitation. Emery said that Houston will be on a similar recovery schedule as former Bears defensive tackle Nate Collins, who tore his ACL last Oct. 6 and returned for OTAs in June.
This will be the first time that Houston misses a game in four seasons with the Raiders and one with the Bears. He is expected to be replaced in the starting lineup by veteran Willie Young.
Slauson, meanwhile, tore his right pectoral muscle Sunday against the Patriots. The six-year NFL veteran does not need surgery and is expected to be ready to start the offseason program next April after a 3-4-month rehabilitation.  
The Bears aren't sure at this point who will replace Slauson. Coach Marc Trestman said Monday that one option will be to move Jordan Mills from right tackle to left guard and start Michael Ola at right tackle.
"We're going to look at everything over the next couple of days and talk about it through the weekend," Trestman said. "We've got a number of guys we can move into that position. We can go with Jordan moving into that position. We could go with Eben [Britton] moving into that position. We've got some young guys we're developing. We'll see how that goes."
Since joining the Bears as a fifth-round draft pick from Louisiana Tech last year, Mills had started all 23 games at right tackle before sitting out Sunday's debacle in New England with a foot injury.
"I think that he could fit into any position, I really do," Trestman said. "We've had some discussions about it to see what is going to be best for our line with Matt moving out and we'll continue to do that and I'm leaving that open-ended. We'll see where that goes."
Linebacker Darryl Sharpton, who has been playing on the nickel defense, is week-to-week after exiting Sunday's game with a right hamstring injury. However, he is not expected to play in the Bears' next game, Nov. 9 against the Green Bay Packers at Lambeau Field.