Less than two months after opening the season as the Bears' third-string running back, rookie Jordan Howard has emerged as one of the team's top playmakers.
The fifth-round draft pick from Indiana has rushed for 505 yards and two touchdowns on 99 carries and caught 18 passes for 177 yards and one TD. His 69-yard run on Halloween night against the Vikings is the Bears' longest play from scrimmage this season and the club's longest run since Kahlil Bell's 72-yarder in 2009.
"He's one of those guys who's getting better and better and better each and every week," said quarterback Jay Cutler. "You can see it in his play. You can see it in his demeanor, the way he carries himself. In the huddle he's one of the guys you don't have to worry about him at all. He's like a five-year vet; knows exactly what he's supposed to do and his responsibilities. If you mess up something, he's going to fix it for you, which is awesome to have."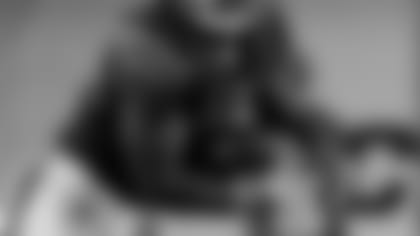 Jordan Howard has emerged as one of the team's top playmakers.


Howard was active but did not play in the Bears' season opener in Houston. He then saw limited action in the next two games, rushing for 22 yards on three carries against the Eagles and 45 yards on nine attempts versus the Cowboys.
With Jeremy Langford and Ka'Deem Carey both unable to play due to injuries in a Week 5 contest against the Lions, Howard made the most of his first NFL start, rushing for 111 yards on 23 carries in helping the Bears record their first win of the season.
A week later, Howard rushed for 118 yards on 16 carries and caught three passes for 45 yards including a 21-yard touchdown in a loss to the Colts.
"If there's an advantage to having injuries it's that it gives guys opportunities," said coach John Fox. "We weren't excited to get Jeremy Langford banged up with an ankle. But it gave Jordan Howard an opportunity. We got to learn a lot more about his capabilities and I think he's proven to us and proven to people on the outside that he's worthy of it."
After Howard's production dipped in back-to-back losses to the Jaguars and Packers, he rebounded by rushing for a career-high 153 yards and one TD and catching four passes for 49 yards in an upset win over the Vikings Halloween night at Soldier Field.
"He's done a really good job with yards after contact," said offensive coordinator Dowell Loggains. "That's where he's made his biggest improvements. As he gets more reps and sees more things, we hope that he'll continue to get better and better with the run schemes."
The Bears knew that Howard had plenty of potential after he rushed for 3,681 yards and 24 TDs in three college seasons at Alabama-Birmingham (2013-14) and Indiana (2015). But they weren't exactly sure what they had until he was given an opportunity to play earlier this season.
"He missed a little bit of time in the offseason as well as training camp, so we were just getting to know him," Fox said. "And then Jeremy got hurt and [Howard's] reps picked up and it wasn't too big for him. He's handled it well. He's a humble kid, good teammate, a real high character guy who's kept a level head. Sometimes some early success can go to a guy's head, but that has not been the case with Jordan."
Howard's success on the ground has helped create opportunities in the passing game. In the rookie's three 100-yard outings this season, Bears quarterbacks have posted their three highest passer ratings: Brian Hoyer's 120.1 and 120.0 against the Lions and Colts, respectively, and Cutler's 100.5 versus the Vikings.
"Any quarterback alive, even the guys wearing gold [Hall of Fame] jackets, will tell you that [a good running game] is a quarterback's best friend," Fox said.
"You don't want to become one dimensional. Sometimes when you're throwing the ball 50, 55 times a game, it's not very good regardless of how talented you are as a quarterback. So you want to try to get as much balance as you can. Typically, when you have those kinds of numbers throwing the ball, you're usually behind—and that's never a good sign. So establishing the run game is critical for any quarterback."