Bears fifth-round draft pick Jordan Howard opened his rookie season third on the depth chart at running back and closed it by playing in the Pro Bowl.
Although he didn't make his first start until Week 4, Howard finished second in the NFL in rushing in 2016, setting Bears rookie records with 1,313 yards and seven 100-yard games.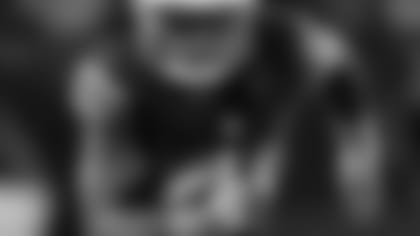 ChicagoBears.com has named running back Jordan Howard as the 2016 Bears most valuable player, offensive player of the year and rookie of the year.


Howard joined Hall of Famer Walter Payton as the only Bears players to rush for at least 1,300 yards and average more than five yards per carry in a season. Payton did it just once in his illustrious 13-year career—with 1,852 yards and a 5.5-yard average in 1977.
As a result of Howard's performance, ChicagoBears.com has selected the Indiana product as the Bears' most valuable player, offensive player of the year and rookie of the year for 2016.
Howard broke the Bears rookie rushing record of 1,238 yards that Matt Forte took 316 carries to set in 2008 on his 240th attempt of the season. If Howard maintained the same 5.2 yards-per-carry average on 316 rushes he would have gained 1,646 yards.
Howard's team rookie record of seven 100-yard games were two more than Hall of Famers Payton (2) and Gale Sayers (3) had as rookies combined. The previous record of five was set by Beattie Feathers in 1934 and matched by Rashaan Salaam in 1995.
In a Week 8 win over the Vikings, Howard became the first Bears rookie to generate more than 200 yards from scrimmage in a game since Sayers in 1965. Howard's 153 yards rushing versus Minnesota were the most by a Bears player since Oct. 2, 2011 when Forte rushed for 205 yards in a win over the Panthers. And Howard's 69-yard run was the longest by a Bears player since Nov. 22, 2009 when Kahlil Bell had a 72-yarder in a loss to the Eagles.
Howard closed the year with a flourish, earning NFL offensive rookie of the month honors for December/January after rushing for 547 yards and four touchdowns in five games. During that span, he averaged 5.3 yards per attempt and had three 100-yard games.
With fellow rookie Ezekiel Elliott of the Cowboys leading the NFL in rushing, this season marked the first time that rookies finished 1-2 since the NFL-AFL merger in 1970. While Elliott was selected by Dallas with the fourth pick in the draft, Howard was chosen with the 150th pick. Howard was the 10th running back selected in the draft; none of the eight sandwiched between him and Elliott rushed for more than 612 yards and only one topped 500 yards.