Jordan Howard is launching a campaign to commemorate the 10-year anniversary of his father's death with a fundraising challenge to benefit the Pulmonary Fibrosis Foundation.
The Bears running back was 12 years old when his father, Dr. Reginald B. "Doc" Howard, passed away at age 52 on January 31, 2007 after a nine-year battle with Pulmonary Fibrosis.
"My dad was my best friend and I miss him every day," Howard said. "Ten years is like yesterday to me. I want everyone affected by pulmonary fibrosis to keep fighting, keep having hope and faith and keep believing there will be a cure."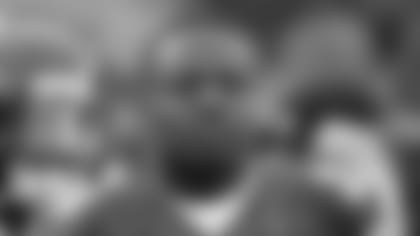 Bears rookie running back Jordan Howard will personally match the first $10,000 donated to the Pulmonary Fibrosis Foundation.


The campaign asks individuals to donate $10, and then to recruit 10 people to donate $10 apiece to help support the PFF's efforts to find a cure. Howard will personally match the first $10,000 donated, while Bears Care—the charitable arm of the Bears—will match the first $2,500 donated.
"It's important to me to get people to know about the cause and get people to support a cause that's near and dear to me," said Howard, the Bears' lone Pro Bowl representative this season. "My dad is gone, but we can help other people who have the disease."
Howard announced his commitment to fight pulmonary fibrosis Nov. 9 at the PFF's volunteer meeting in Chicago. The event is an annual conference for PF advocates, patients, and health care professionals to share their stories about PF and attend workshops to strengthen their advocacy, leadership and fundraising skills.
Pulmonary fibrosis is a devastating group of progressive diseases that cause scarring in the lungs, limiting oxygen intake. As a result, the brain, heart, and other organs do not get the required oxygen needed in order to function properly.
Howard honored his father by wearing a pair of specially-designed cleats Dec. 4 against the 49ers as part of a league-wide "My Cause, My Cleats" campaign. Howard rushed for 117 yards and set career highs with 32 carries and three touchdowns in leading the Bears to a 26-6 win.
Recently, Howard and the PFF teamed up on a giant billboard campaign in Times Square. The 15-second ad tells Howard's story and invites viewers to join the fight. It appears on a supersize 29-foot-by-56-foot billboard and will run three times an hour, 20 hours a day through March 1.
"Our community is inspired by Jordan's incredible generosity and his ability to turn his personal loss into a passion for finding a cure for this disease," said Patti Tuomey, the PFF's president and CEO.
Click here for more information about Howard's involvement or to donate.