Jordan Howard's feet have helped him become one of the NFL's top young running backs. This Sunday at Soldier Field, they'll serve another important purpose.
The Bears rookie will raise awareness for the Pulmonary Fibrosis Foundation by wearing a pair of special-designed cleats against the San Francisco 49ers. Howard's father, Dr. Reginald B. Howard, died of Pulmonary Fibrosis in 2007 at the age of 52 after a nine-year battle.
Players throughout the NFL will be wearing special shoes that highlight causes that are important to them this weekend as part of the league's "My Cause, My Cleats" campaign.
"I'll be wearing cleats for pulmonary fibrosis and that will be very special for me," Howard said.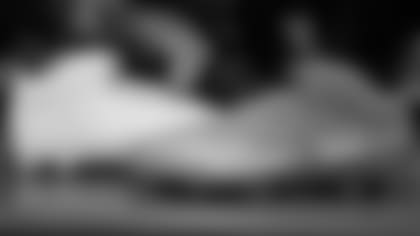 The cleats that Bears rookie Jordan Howard will wear to honor his father and raise awareness for the Pulmonary Fibrosis Foundation.


The fifth-round draft pick from Indiana announced his commitment to fight pulmonary fibrosis Nov. 9 at the PFF's volunteer meeting in Chicago. The event is an annual conference for PF advocates, patients, health care professionals to share their stories about PF and attend workshops to strengthen their advocacy, leadership and fundraising skills.
"I told them about my story and how we're going to keep fighting this disease to try to find a cure," Howard said.
Pulmonary fibrosis is a devastating group of progressive diseases that cause scarring in the lungs, limiting oxygen intake. As a result, the brain, heart, and other organs do not get the required oxygen needed in order to function properly.
"Jordan Howard offers new hope to the community of 200,000 people fighting pulmonary fibrosis," said Patti Tuomey, president and chief executive officer of the PFF. "We share with Jordan an unwavering commitment to find a cure for all who are affected by this disease."
Howard had already been paying tribute to his father, albeit in a more private way. Beginning in seventh grade and continuing into the NFL with the Bears, he has worn the same t-shirt under his jersey that reads: "In memory of my dad, Reginald Howard."
"He definitely inspires me," said the Bears running back. "I think about him every day. I know that he's always there with me. Even though he's not here in body, I know he's here spiritually. He always motivates me and [reaching the NFL] is all we ever talked about."
Third on the depth chart at the start of the season, Howard has emerged as one of the Bears' most productive players. He enters Week 13 ranked ninth in the NFL and second among rookies in rushing with 766 yards and two touchdowns on 149 carries. Howard has four 100-yard games this year, the most by a Bears rookie since Anthony Thomas also had four in 2001.
Other Bears players who will be wearing special cleats Sunday include linebacker Sam Acho and long-snapper Patrick Scales.
Acho will raise awareness for Living Hope Christian Ministries, an organization that his parents founded in 1989. Dr. Sonny Acho and Christy Acho have been returning to their native Nigeria each of the past 27 years with doctors and nurses to provide free medical care. Acho has traveled with the group about 10 times, beginning when he was 12 years old.
Without medical care, people in Nigeria have passed away from insect bites and stomach flu, and their lives have been incapacitated by cataracts, hernias and abscessed teeth. But with the free treatment from the doctors and nurses on the mission trips arranged by Living Hope Christian Ministries, the people of Nigeria have been afforded longer and more fulfilling lives.
Scales will be supporting Colleen's Dream Foundation, which funds ovarian cancer research with the primary goal of developing an accurate and accessible early detection test. Several NFL specialists raise funds and awareness for the organization.