Surrounded by his teammates, Jordan Howard probably wouldn't be the first Bears player you'd notice. The rookie fifth-round draft pick isn't particularly vocal or physically intimidating.
But that doesn't mean that Howard, a 6-foot, 222-pound Alabama native, isn't beginning to develop into a productive all-around running back just three games into his NFL career.
"The thing that stands out to me about Jordan is the fact you wouldn't really know he's in a room because he doesn't say much," said right guard Kyle Long. "He's wise beyond his years. You can tell that he's been through some things in life that have forced him to mature at an accelerated pace.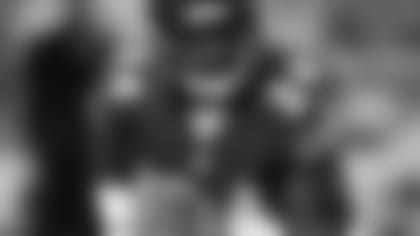 Running back Jordan Howard has rushed for 67 yards on 12 carries.


"And he does a great job in the pass [game] when it comes to blitzes. He knows his assignments, and then he's going to run the ball hard. He's always going to finish with his legs churning. That's what we love to see."
So far this season Howard has rushed for 67 yards on 12 carries, a 5.6-yard average that ranks third in the NFL among rookies. He became the Bears' primary ballcarrier last Sunday night in Dallas after Jeremy Langford exited with an ankle injury and finished the game with 45 yards on nine attempts.
"Every time he's touched the ball, he's been pretty impressive," said coach John Fox. "Playing running back in the National Football League is a little bit more than just running the ball. Some of those things took a little longer to learn and to be able to execute consistently. I think he's done that pretty well when we've called on him in the regular season."
The most difficult adjustment for a rookie running back entering the NFL is learning how and when to pass block, and Howard has gone to great lengths trying to hone that aspect of his game. He has watched hours of tape and met frequently with running backs coach Stan Drayton.
"It's definitely been a big jump because in college you have pretty simple pass protections and here you have so many and the defense can be so diverse so you have to know what to expect," Howard said.
Offensive coordinator Dowell Loggains feels that Howard is "getting closer" to becoming an every-down NFL back.
"He's getting there," Loggains said. "In the NFL, it's a little bit different than college football with all the different fronts and with all the different personnel packages. He's working really hard to get caught up to speed with that, but he's doing a nice job as a runner."
With Langford and Ka'Deem Carey (hamstring) both held out of practice Thursday for the second straight day, Howard could see expanded playing time Sunday when the Bears host the Detroit Lions at Soldier Field.
"I feel like it's a big opportunity for me, but I don't feel any pressure or anything like that," Howard said. "I feel like I'll just do what I'm capable of doing and help the team try to get some wins."
Last season at Indiana, Howard rushed for 1,213 yards and nine touchdowns on 196 carries despite missing four games with ankle and knee injuries. Maryland interim coach Mike Locksley described Howard as a "bruising-style runner" who combines "power and balance" and "runs with great leverage."
Howard played his first two college seasons in his hometown at Alabama-Birmingham in 2013-14 before transferring to Indiana after UAB disbanded its football program. He made an immediate impact at Indiana, becoming the first FBS player in the last 20 years to rush for at least 140 yards in each of his first four games with a program, compiling 145, 159, 203 and 168 yards.
Howard hopes to make a similar splash with the Bears.
"Coming into the league you always want to be the featured guy, but I definitely wasn't expecting this or expecting it to come this fast," he said. "I'm definitely grateful for the opportunity, but I'm not going to let it slip through my hands either. I'm going to make the most out of my opportunity."