Signed by the Bears as undrafted free agents on April 28, 2013, cornerbacks Demontre Hurst and C.J. Wilson soon became inseparable on and off the field, even rooming together on road trips.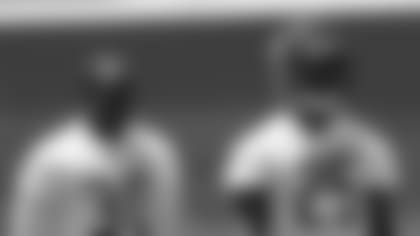 Cornerbacks Demontre Hurst (30) and C.J. Wilson (25) watch practice last year at Halas Hall.
So when Hurst heard that Wilson—who joined the Buccaneers after being cut by the Bears last season—had lost two fingers in a fireworks accident during Fourth of July weekend, he called his friend to offer support.
"I reached out to him and let him know I was thinking about him, that he was in my prayers," Hurst said. "When I talked to him he was in really good spirits, so that's what you're looking for out of a situation like that; just make sure that he has a lot of support behind him and his head is good and he's moving forward."
On July 24, Wilson announced that he was stepping away from the NFL to focus on his recovery and plans to return to the game once he is fully healed from his injuries.
At the time, Wilson's agents released a statement saying that "C.J. is in good spirits and is continuing to focus on his rehab and the healing of his hand. … He is a very strong-willed young man with great work ethic and character. We look forward to seeing him play again in the future."
Wilson wasn't the only NFL player injured in a fireworks accident during Fourth of July weekend. New York Giants defensive end Jason Pierre-Paul also lost a finger and hurt his hand in a similar incident.
"It was surprising that it happened to two people," Hurst said. "It's just one of those situations you've got to be careful of. It's not like they had bad intentions playing with those things. They've probably been doing it for so many years. It was just a freak accident that happened at the wrong time."
Hurst feels that the two incidents will remind NFL players not to play with fireworks or do anything else off the field that could possibly jeopardize their careers.
"Pretty much everybody around the league has gotten a message from it—just be careful with those things," Hurst said. "I'm pretty sure it will be somewhere in our contracts now. It's just crazy that something like that would happen to two guys who are playing in the league now."