The Bears continued to bolster their defense Tuesday, this time with a familiar face when they signed versatile lineman Israel Idonije to a one-year contract.
The 6-6, 275-pounder played nine seasons with the Bears from 2004-12 before spending last year with the Detroit Lions. During his first tenure with the Bears—which began on the practice squad in 2003—Idonije developed from a special teams contributor into a productive starting defensive end who often slid inside in passing situations.
"It's good to be back home," Idonije told ChicagoBears.com. "I'm excited to get back to work and get things rolling. I've spent 11 years here in Chicago, so it's exciting to be able to come back home and reconnect with a great city and a great football program."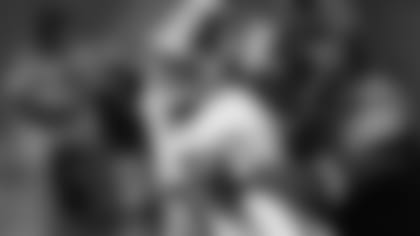 Israel Idonije sacks Redskins quarterback Robert Griffin III during a 2012 preseason game.
Idonije has appeared in 134 games with 50 starts for the Bears, recording 196 tackles, 28.5 sacks, 15 passes defensed, eight forced fumbles and six fumble recoveries. He also scored a touchdown in a 2011 loss to the Seattle Seahawks when he recovered a fumble in the end zone.
"It feels like I'm coming back home as far as playing football for a club that has been near and dear to my heart and has been part of my life for a decade," Idonije said.
Off the field, Idonije remains very involved in the Chicago community. He was one of three finalists for the prestigious NFL Walter Payton Man of the Year Award in 2010 and was the Bears' recipient of the Ed Block Courage Award in 2009.
Last year in his only season with the Lions, Idonije appeared in 15 games, all as a reserve. Playing sparingly on defense, he recorded just seven tackles and half a sack.
Idonije is among more than a dozen defensive players the Bears have signed since the end of the 2013 season. Those from other NFL teams include ends Lamarr Houston (Raiders) and Willie Young (Lions); and safeties Ryan Mundy (Giants), M.D. Jennings (Packers) and Danny McCray (Cowboys). Seven are players the Bears retained: tackles Jeremiah Ratliff and Nate Collins; cornerbacks Charles Tillman, Tim Jennings, Kelvin Hayden and Derrick Martin; and safety Craig Steltz.
In his second stint with the Bears, Idonije will work with not only several new teammates but a new head coach in Marc Trestman and defensive coordinator in Mel Tucker.
"It's a different team," Idonije said. "There's different leadership. Today, I had a great meeting with coach Tucker. I'm looking forward to not only getting to know my teammates and getting connected with the new guys that I'll be playing with but also the coaching staff and the leadership of the team."