Extrapolate the 2½ sacks that Israel Idonije recorded in the first quarter Saturday night over the course of the season and the Bears defensive lineman would compile an eye-popping 160 sacks.
That, of course, is not going to happen. But coach Lovie Smith was happy to see the nine-year veteran finish some of the same types of plays that he just missed last season when he recorded five sacks.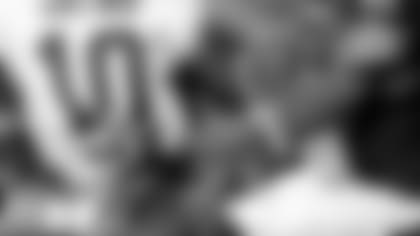 Bears defensive lineman Israel Idonije sacks Robert Griffin III in Saturday night's win over the Redskins.
"I have been pleased with Israel Idonije since the first day I got here," Smith said following the Bears' 33-31 preseason win over the Redskins at Soldier Field. "You know what type of play you are going to get from him.

"He will be the first one to tell you that he left some sacks on the field last year. But you know the type of effort that you are going to get from him playing any role that we, as a coaching staff, think he can help our football team. But it is always good to see a guy have that type of night. He is feeling pretty good about himself right now and he should."

When the Bears went to their nickel defense, Idonije moved inside to tackle with rookie Shea McClellin lining up opposite Julius Peppers at defensive end.

But the biggest play that Idonije produced came when he was rushing from the end position. Idonije stripped the ball from Robert Griffin III on a blindside sack and Peppers recovered the rookie's fumble at the Washington 8.

Two plays later, running back Michael Bush's 8-yard touchdown run gave the Bears a 14-0 lead.

"It was the play coach called," Idonije said. "It put me in a great position against the tight end. I came around the edge and Major [Wright] just missed a sack. Fortunately, the quarterback was scrambling and I came around and was able to cause a fumble, and Julius was able to secure the ball. It was just a great play."

Idonije's performance helped the Bears contain Griffin, the reigning Heisman Trophy winner who was selected by the Redskins with the second overall pick in the draft. The rookie quarterback completed 5 of 8 passes for 49 yards and a 79.7 passer rating while playing the first half. [ ](http://www.phoenix.edu/campus-locations/il.html?utmsource=Story&utmmedium=instory&utmcampaign=300x100)
"He's an incredible athlete, talented as a quarterback," Idonije said. "For us it was just a challenge of getting after him and testing our speed against his and working to contain him and keep him in the pocket, especially because we see a lot of mobile quarterbacks.
"It was a great test for us."