The Bears struggled to sustain drives and possess the ball early in the season. But an improved running game has solved those two problems in recent weeks by providing balance on offense.
With Jordan Howard rushing for 111 and 118 yards in his first two NFL starts behind a more effective offensive line, opposing defenses have had to respect the run as much as the pass.
"When you get the running game going, it opens up a lot of things," said quarterback Brian Hoyer. "It opens up play-action passes, gets some guys to come down into the box so you can throw it a little easier. Any time you can stay balanced as an offense and try to keep that defense guessing on what you're doing, it's always an advantage to us."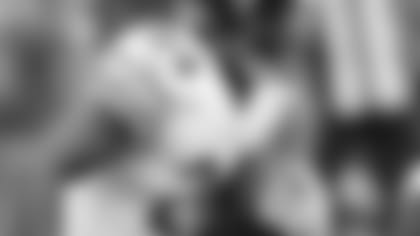 Jordan Howard has rushed for over 100 yards in his first two NFL starts.


After averaging just 70 yards rushing over the first three games of the season, the Bears have produced 114 and 125 yards on the ground in their last two contests.
"It helps Brian," said offensive coordinator Dowell Loggains. "It helps the play-calling. There's definitely [a point] where you don't get one-dimensional. You're able to throw the football. You're able to run the football when you need to. I think that's very important."
Hoyer has excelled in recent weeks, becoming the first quarterback in Bears history to pass for at least 300 yards in three straight games without an interception. He enters Week 6 having completed 71.4 percent of his passes for 1,094 yards with six touchdowns and a 108.5 passer rating.
Loggains feels that the key to Hoyer having thrown 140 passes this season without being picked off is trusting his progressions, being disciplined and understanding coverages.
"He's a smart player," said Loggains, who served as Hoyer's position coach with the Cleveland Browns in 2014. "He's played a lot. I think that's the biggest thing, understanding we're not going to sit back there, we're not going to force the ball to Alshon [Jeffery]."
Some outside Halas Hall have questioned why the Bears have only targeted Jeffery 18 times in the last three games; he has just 13 receptions for 129 yards during that span. But Loggains wants Hoyer to continue to find open receivers and not force the ball to any one individual.
"If [opponents] are going to try to double Al and do those other things, then we'll throw it to other people," Loggains said. "We have a lot of plays designed to go to Alshon. If not, then we're getting to No. 2 and No. 3. [Hoyer] has been disciplined in his reads and trusting his progressions."
With the Colts focusing on Jeffery last Sunday in Indianapolis, Cameron Meredith caught nine passes for 130 yards and one TD, Zach Miller had seven receptions for 73 yards, Eddie Royal caught seven passes for 43 yards and Howard had three catches for 45 yards and one TD.
"The coverage will dictate where the ball goes," Loggains said. "Brian's done a real good job of trusting his progressions, going through his progressions, not trying to force balls and doing the right thing. Alshon's productive. When it's one-on-one, the ball's going to go to him. When they double team him, the ball's going to go somewhere else."
Hoyer has also done an excellent job of avoiding sacks, taking just two in three starts. He was not sacked while throwing 49 passes against the Cowboys Sept. 24 and 43 versus the Colts.
"The passing game has a lot of moving parts," said coach John Fox. "It's getting rid of the ball on time. It's getting proper reads. Obviously, the protection is key. Knowing what to do, where to go, where the line's going, some of the twists and turns that can happen along the way that the defense tries to create. I just think we're getting more comfortable with the continuity of the people and the communication that it takes in a game condition to execute better. So I think we're making progress, [but] we're not there yet."
One of the few times that Hoyer failed to make a correct read came on the Bears' final play last Sunday. On fourth-and-eight from the Indianapolis 28, the Colts disguised their coverage, making it appear that they were doubling Jeffery with a safety over the top. But Jeffery ultimately beat single coverage, breaking open deep as Hoyer threw incomplete over the middle to Meredith.
"We addressed it as a group," Loggains said. "We're not going to sweep anything under the rug. We talk about things as an offense that need to be talked about. But that wasn't the play that won or lost the game. We had a first-and-goal [in the first quarter] and we got a facemask penalty that knocks us back and end up kicking a field goal, which is a four-point swing.
"When you have seven penalties inside the 40-yard line, it wasn't one play that defined you. It's those seven or eight plays in a game that you don't know which one is going to be the difference. That was the last play we had. That was our last chance. That's why it stings more. But Brian is not defined on that one play. He played 64 really good snaps of football."