The Bears will evaluate all aspects of their team heading into the offseason. But after re-signing quarterback Jay Cutler, it's clear that their No. 1 priority will be to fix a porous defense.
While ranking second in the NFL in scoring behind only the Broncos in 2013, the Bears allowed the most points (478), total yards (6,313) and rushing yards (2,583) in franchise history.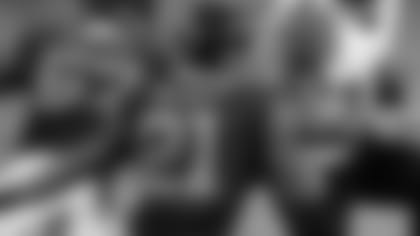 Bears linebacker Jon Bostic and safety Major Wright pursue Ravens running back Ray Rice.
"We need to improve as a defense," said general manager Phil Emery. "We had a lot of tough days defensively and we had a tough season. There are no excuses for it. I know our fans are frustrated. I know everybody in this city is frustrated. The team is frustrated."
Opening the season 3-0, the Bears led the NFL with 11 takeaways and ranked ninth in the league against the run. But they were unable to overcome a slew of injuries that decimated their defense.
Tackles Henry Melton (knee) and Nate Collins (knee), middle linebacker D.J. Williams (chest) and cornerback Charles Tillman (triceps) all sustained season-ending injuries, while linebacker Lance Briggs missed seven games with a fractured shoulder.
"We had injuries; they are not excuse," Emery said. "So for me, I have to look at, did we have enough depth to win football games? The answer is no. From a personnel perspective, from my perspective I had not done enough to provide depth."
Emery feels that the Bears were one defensive lineman short after veteran tackle Sedrick Ellis decided to retire before reporting to training camp after signing with the team June 11.
"The fact that we couldn't replace Sedrick, that's on me," Emery said. "We didn't have enough pass rush from the outside or the inside. We needed one more. [End] David Bass came in and did a very good job against the run, but he's a young rusher. We needed one more there."
Emery also accepted blame for the Bears not getting any contributions from 2012 third-round pick Brandon Hardin. A cornerback at Oregon State who missed his senior season with a shoulder injury, Hardin was waived as part of final cuts without ever playing in a regular season game with the Bears.
"We needed another safety to provide competition to improve our group," Emery said. "I selected Brandon Hardin. I put that young man in a bad position to succeed; moved him from a corner to a safety and he wasn't able to make that transformation, and that's on me."
Moving forward, Emery wants to build a "physical, fast, playmaking defense that causes disruption," something he says he saw in the first three games of the season when the Bears intercepted five passes, recovered six fumbles and scored three defensive touchdowns.
"The No. 1 thing is score. The No. 2 thing is to create turnovers. No. 3 is to cause disruption to the opposing quarterback," Emery said. "We have to create more confusion pre-snap and more disruption post-snap on the opposing quarterback."
Emery acknowledged that he will focus on the defense during the offseason.
"We have a lot of work to do and that starts with me on the personnel aspect of it," he said. "It starts with our UFA market. It starts with our draft. I will just tell you we're going to be a younger defense. The draft will be focused in that area. We're going to continue to do all we can to get on the road to win championships, and to do that you have to continue to find weapons and playmakers."
When discussing a comprehensive evaluation of the entire team at a press conference Thursday, both Emery and coach Marc Trestman repeatedly said that "everything is on the table." On defense, that means that the Bears could decide to replace coordinator Mel Tucker, move defensive end Shea McClellin to linebacker and possibly even shift to a 3-4 scheme.
Asked about Tucker's future, Trestman said: "I don't want anybody to read into anything that we're doing. Everything is on the table and we're going through a very thoughtful and methodical process here. And to read anything other than that, I think that we've talked enough at these press conferences that I'm hopeful that you won't. We're going to look at everything because we have an obligation to do that, and that starts with me and what I can do to get this football team better."
Trestman did praise Tucker for leading a defense in the first three games of the season that scored touchdowns, generated turnovers and played with speed and a sense of urgency.
"The defensive team that started the season was a Mel Tucker-coached defense that created havoc on the offenses that we played in the first three games," Trestman said. "He really took a backseat to the structure and the defense that was in the year before. That was part of his ability to learn the language of the defense and then to assimilate it and then be able to coach it. That's not easy to do.
"If you're a coordinator and you go into a new situation and you have to put in somebody else's language and learn theirs, that's not an easy transition. And what we saw in the first three games was a Mel Tucker defense that looked very similar quite frankly to the tape that I looked at [of] 2012. That's the facts. That's what it looked like to me."