Bears quarterback Jay Cutler did not practice Friday and was listed as doubtful for Sunday's home game against the Lions, meaning that it's unlikely he will play.
Cutler sprained his right thumb two weeks ago in a Monday night loss to the Eagles and sat out last Sunday night's defeat to the Cowboys. He practiced on a limited basis Wednesday, but was held out of workouts Thursday and again Friday.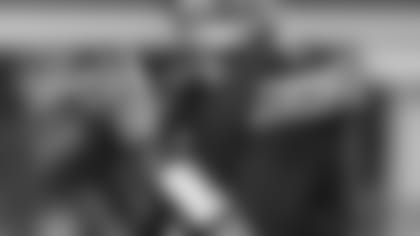 Bears quarterback Brian Hoyer is expected to get his second straight start.


"It's a pretty critical area on the quarterback, especially when it's your right thumb and you're a right-handed quarterback," said coach John Fox. "We're going to get him healthy and that's our main objective and we'll see if he's any further along tomorrow."
With Cutler unlikely to play Sunday against the Lions, Brian Hoyer is expected to get his second straight start. The veteran backup completed 30 of 49 passes for 317 yards with two touchdowns, no interceptions and a 93.7 passer rating against the Eagles, though 256 of his yards came in the second half when the Bears never trailed by fewer than 14 points.
"I thought [Hoyer] did a good job," said offensive coordinator Dowell Loggains. "He came in and had a lot of opportunities to throw the football and I thought he did his part."
"He's a pro," Fox said of Hoyer. "Even when you're the backup, you're one play away from being the guy anyway, so you've always got to be prepared because you don't know what's going to happen in the game. Much like drifting back to the Philadelphia game, even in that game I thought he went in and did a decent job, stepping in with not all the first-team reps that week in practice. And I thought he rose to the challenge last week."
In addition to Cutler, other Bears listed as doubtful include running backs Jeremy Langford (ankle) and Ka'Deem Carey (hamstring), nose tackle Eddie Goldman (ankle) and inside linebacker Danny Trevathan (thumb).
With Langford and Carey both injured, the Bears signed former Lions running back Joique Bell Tuesday and spent the week giving him a crash course on their offense, including blitz pickup.
"There's some terminology carryover with that part," said offensive coordinator Dowell Loggains. "It does help anytime you bring a veteran in that has a good understanding of football concepts. It's still a great challenge, though, in a week to get a guy ready to play in a National Football League game. [The Lions] do a lot of stuff up front with their blitzes, different personnel groupings. So it's a challenge, but he's working his tail off at it."
Seven Bears players are questionable for Sunday's game, which means their availability is uncertain. They are receiver Alshon Jeffery (hamstring), guard Josh Sitton (shoulder), defensive end Jonathan Bullard (toe), outside linebacker Willie Young (knee), cornerbacks Tracy Porter (knee) and Sherrick McManis (hamstring), and safety Harold Jones-Quartey, who has completed concussion protocol and has been cleared for contact.
With Kyle Fuller being placed on injured reserve this week, it's especially important that Porter—the Bears' top cornerback—is able to play Sunday. The Lions offense features wideout Marvin Jones, who leads the NFL in receiving yards with 408.
"[Porter] has kind of been that guy for us, so it'll be extremely crucial," Fox said.