With Chris Spencer at left guard and Jonathan Scott at right tackle, the Bears entered Sunday's game against the Minnesota Vikings with two new starting offensive linemen.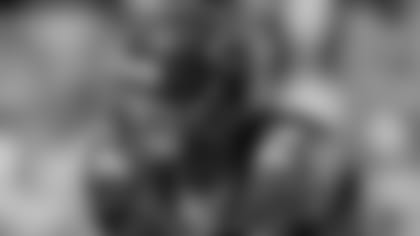 Gabe Carimi played guard for the first time Sunday against the Vikings after Lance Louis exited with an injury.
Unfortunately, more changes were necessary.
Spencer injured his knee in the second quarter and was replaced by Edwin Williams, who had been inactive the first 10 games of the season. When right guard Lance Louis exited with a knee injury in the third period, the Bears turned to Gabe Carimi, who had lost his starting right tackle job to Scott.
"I didn't know what we were going to do," said quarterback Jay Cutler. "I know Gabe had never played guard before. I went and told him, 'Hey, just go in there, do what you can, keep your head up and use your hands.' He's a good player. He wants to do well. Any guy who has a lot of desire like he does is going to go in there and give his best effort."
With their makeshift line, the Bears scored three touchdowns, allowed just one sack and converted 11-of-19 third-down opportunities in an impressive 28-10 win over the Vikings.
"Losing two starters is tough to overcome," said center Roberto Garza. "Ed and Gabe going in at guard, a position [Carimi] hasn't played, they did a hell of a job. It's a tribute to the job coach [Mike] Tice is doing with us. Those guys played more than half the game at positions they hadn't played at all during the week [in practice]."
Williams and Carimi were the only two reserve offensive linemen in uniform for the Bears Sunday. Asked what they would have done had they sustained another injury, coach Lovie Smith said: "We have options. We had a plan for that. Luckily it didn't come to that."
"It was a tough situation," Garza said. "When no one else can get hurt, we were out there still battling. We were able to move the ball, and Jay had a great game."
Benched after a poor performance last Monday night in San Francisco, Carimi found himself not only right back in the lineup but at a brand new position.
"Everything happens faster [at guard]," Carimi said. "You have bigger guys. It's a whole different animal. It's hard to explain if you don't play it, but it's definitely a lot different.
"That's why you have a good attitude. You don't like to see that happen, and I didn't want to see it happen this way. But I was glad to get a shot."
The line contributed to a balanced attack. Cutler passed for 188 yards with one touchdown, one interception and an 86.5 rating. Michael Bush rushed for 60 yards on 21 carries, while Matt Forte gained 42 yards on 14 attempts before exiting in the third quarter with an ankle injury.
"Those guys played well," Cutler said of the line. "We've just got to see this week who's up, who's down, who's going to be playing guard for us and who's going to be playing tackle.
"Jonathan Scott came in and added a little extra edge to that group. I thought he was fired up out there and played well. Gabe had to come in and play guard, and he stood up to the challenge."
With the uncertainly up front, Cutler isn't worried about the line developing continuity.
"I don't think it's possible now with all the moving parts we have," he said. "With Lance going down, we're not going to have that. We're going to have to roll with the punches and the guys we have, and see what we have. We are going to need to lean on our defense like we have before, run the ball well, be efficient through the air and see how far we can go with this."
Cutler admitted that he will alter his approach with all of the changes on the line.
"When you have a lot of new guys in there, you want to get rid of the ball fast, find my first read and take it," he said. "You want to limit sacks because sacks really kill those guys up front. We want to limit sacks and keep their confidence high."