Jay Cutler never thought he'd be throwing passes exclusively to third- and fourth-stringers in practice. But with the Bears' top four receivers sidelined, that was the case Wednesday.
Alshon Jeffery (calf), Eddie Royal (hip), Kevin White (shin) and Marquess Wilson (hamstring) all sat out practice, giving some unheralded receivers a chance to work with the No. 1 offense.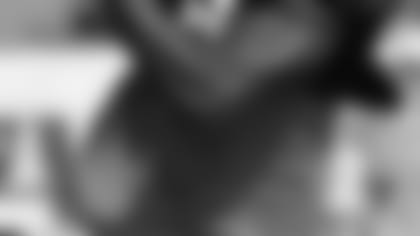 Rashad Lawrence during training camp.
The Bears' nine healthy receivers are Joshua Bellamy, John Chiles, A.J. Cruz, Jeremy Kelley, Rashad Lawrence, Marc Mariani, Cameron Meredith, Levi Norwood and Ify Umodu.
"I've never been a part of anything like that; all four going down like that," Cutler said. "It's a great opportunity for these guys and it's given me a chance to work with them and do some hands-on stuff with them.
"They're excited. I got in the huddle today with these guys and they're all excited to be out there. They want the ball, they want to do things the right way, so we'll see how it goes."
Missing his top four receivers is raising the level of difficulty for Cutler in terms of learning his fifth different offense in five seasons with the Bears, but he isn't complaining.
"It just makes me have to work a little bit harder," Cutler said. "It makes me have to communicate with them and make sure they know exactly what they're supposed to do, so I've got to be on it on my end as well. It's a challenge for us. Like I said, it's a really good group of guys, so I enjoy working with them."
The good news is that only White is expected to be sidelined for an extended period of time; the first-round draft pick is recovering from surgery to stabilize a stress fracture in his shin and will miss at least the first six games and possibly the entire season.
"There are other teams out there that are dealing with the same situation we're dealing with," Cutler said. "We've just got to work with the guys we have, and I know [offensive coordinator] Adam [Gase] and the rest of the guys are going to put together a good game plan each week."
Asked what he hopes the No. 1 offense accomplishes in Saturday night's preseason game against the Bengals, Cutler mentioned getting in and out of the huddle and improving on third down and in the red zone.
On six possessions in preseason wins over the Dolphins and Colts, the starting unit has converted just 1-of-7 third-down chances and settled for field goals on two red-zone drives.
"Hopefully we'll get some opportunities there to run some plays and be effective in those areas," Cutler said.
Fox hopes to see continued improvement from the Bears' No. 1 offense in Cincinnati.
"I think we made good progress from preseason game No. 1 to preseason game No. 2, and I kind of expect the same going from No. 2 to No. 3," Fox said.
Cutler completed 4 of 7 passes for 42 yards in the preseason opener against the Dolphins at Soldier Field before connecting on 8 of 9 passes for 69 yards versus the Colts in Indianapolis. He did not throw a touchdown pass or interception in either game.
"He's done a tremendous job of learning the system and being in a new system and new offense; one of many, really, in his career," Fox said. "I've been pleased with his progress."
Cutler says he feels comfortable at the line of scrimmage, thanks in large part to being tutored by Gase.
"He is doing a really good job of making sure the quarterback's in a good position," Cutler said. "He gives us parameters and a little bit of flexibility with what we can do up there.
"It's not like we're just going out there and freestyling. We have some rules and if you stay within those rules you're probably going to be successful. I feel good about it. I know we're heading in the right direction."