Hit hard by injuries on defense, the Bears are being forced to rely on a slew of untested young players to help fill the void. It certainly isn't an ideal scenario, but coach Marc Trestman isn't complaining.
"That's the challenge right now," Trestman said. "You don't make excuses about it. They're here because they're expected to play. We're expected to develop players and coach them and that's what we're doing in a demanding and passionate way to get them ready to play.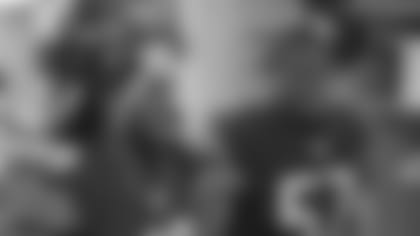 Rookie linebackers Khaseem Greene (left) and Jon Bostic will both start for the Bears Sunday when they host the Ravens.
"This is going on throughout the National Football League. We're in the middle of the season and things happen. We embrace the opportunity to get them ready. I know they're excited to be a part of it."
The injury bug first struck the Bears in training camp when nickel back Kelvin Hayden (hamstring) and defensive end Turk McBride (Achilles tendon) were lost for the season. They were soon joined by defensive tackles Henry Melton and Nate Collins, both of whom suffered torn ACLs, and linebacker D.J. Williams, who tore his pectoral muscle.
More recently, linebacker Lance Briggs was sidelined for six weeks with a fractured shoulder and cornerback Charles Tillman was placed on injured reserve with the designation to return after tearing his right triceps in last Sunday's loss to the Lions.
In that game, five Bears rookies saw action on defense: Linebackers Jon Bostic and Khaseem Greene, ends Cornelius Washington and David Bass, and tackle Christian Tupou.
"We have a lot of young guys who haven't had as much experience in this league," said defensive end Corey Wootton, a fourth-year pro from Northwestern. "The biggest thing we have to do is just help them out along the way, coach them up and just get them going."
With Briggs and Williams sidelined, the development of Bostic and Greene has been accelerated. They are two of only three linebackers the Bears have selected with one of their top three picks in a draft since 1991; the only other one was 2000 first-round choice Brian Urlacher.
"They are improving and they're getting more experience," said defensive coordinator Mel Tucker. "Each and every day, they get a little better. That's what you want to see and not just with the young guys, but with all of the players."
Like Trestman, Tucker is more concerned with developing his players than dwelling on the injuries.
"We're just focusing on what we can control and that's how we play and how we prepare, and technique and fundamentals with our guys; make sure they are sharp on that," Tucker said.
"Make sure they understand the game plan. Make sure we give them the tools they need to go out and play fast. We're not leaving it up to just one guy, so just go out there and do your job. But we don't talk about it a whole lot, in terms of who we don't have. We talk about who we do have and what we need to do moving forward to get the job done, and that's where our focus is."
After allowing 45 points in a loss to the Redskins immediately before their bye week, the Bears have yielded 20 points in a win over the Packers and 21 points in their loss to the Lions.
"I can tell you Mel has done an amazing job in my opinion," Trestman said. "He has been consistent with the guys in terms of his passion and the way he's teaching. He's a positive guy.
"I thought our defense played well enough to win [versus Detroit]. I think that starts with Mel and our staff getting the guys ready; continuing to work with them to try to improve.
"Are we where we want to be? No. We're always trying to get better. But I think he's done an outstanding job in the classroom. On the field he's excellent and I think he's done a great job on the field managing the team for the last couple games as well. It's very impressive to watch."