The medical cart came to pick up Eddie Goldman four minutes into the fourth quarter on Monday night and take the second-year nose tackle into the Chicago training room. There he would find some company. The Bears fell to Philadelphia 29-14 in the Week 2 contest at Soldier Field, but also lost a handful of players to injury in a loss that was both devastating on the scoreboard and also the depth chart.
After being carted off and examined by the team's medical staff, Goldman was eventually ruled out of the game with an injury; he joined six other players who left the contest and did not return.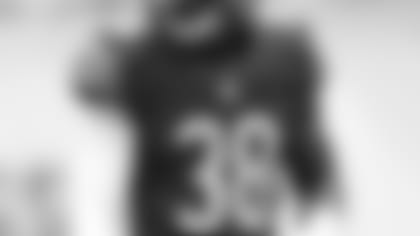 Safety Adrian Amos left the game on Monday night with a concussion.


Safety Adrian Amos (concussion), nickel cornerback Bryce Callahan (concussion), running back Ka'Deem Carey (hamstring), quarterback Jay Cutler (hand), linebacker Lamarr Houston (knee) and safety Chris Prosinski (calf) all joined Goldman on the wounded list.
As the injuries piled up, one on top of another, Chicago's depth was tested on both sides of the ball. Along with the normal worries about starting the season 0-2, the Bears also have to figure out who will play in key spots in future games depending on the severity of these injuries.
Bears players all said following the contest they are confident in themselves and their teammates to overcome these obstacles.
"To lose guys like (Houston) and (Goldman), I mean those guys are crucial to our defense. But I'm a firm believer in next man up," linebacker Jerrell Freeman said. "We have to go to work. There's only one way to do it and that's go to work. There's no special sauce, you can't go buy this at Wal-Mart, you have to go work and that's what we'll do."
"It's tough (to have so many injuries) but that's part of the NFL," added reserve quarterback Brian Hoyer, who replaced Cutler on the final drive of the third quarter. "That's the way the cookie crumbles. Injuries are part of the game, unfortunately. You just have to hope that the next man up is ready to go."
The injuries were unfortunate for obvious reasons, as no player ever wants to see their teammate go down in pain. The setbacks also hurt the Bears because the players who exited were performing well. Cutler had a quarterback rating of 112.7 in the first half after completing 77 percent of his passes, including a 49-yard bomb to Alshon Jeffery to set up Chicago's first touchdown. Amos had a pair of tackles and Callahan had a pass breakup in the first half. Carey came into the game on the second drive and was being used as a change-of-pace runner after playing only two offensive snaps in the season-opener.
Cutler said that he hurt his right thumb early in the game, aggravated it in the second half, and that limited his strength. He played through it as long as he could, but following a pass in the third quarter that lacked the quarterback's usual zip and was intercepted by the Eagles' Nigel Bradham, Cutler told quarterbacks coach Dave Ragone that the team would be better suited with Hoyer under center.
The Bears will run further tests to determine the severity of Cutler's injury, but he told reporters it currently feels as painful as the broken thumb he suffered during the 2011 season. "I'm concerned. As a quarterback, you kind of need your right thumb," Cutler said. "So, we'll see what it is."
No matter what the tests show on all of the team's injured players, Chicago will take the field in less than a week in Arlington, Texas, versus the Cowboys. The team will have to re-group, put the loss to Philadelphia behind them and focus on earning the first win of the 2016 campaign. The injuries played a big role in the Week 2 loss, but the goal moving forward is to not let the concerns linger any longer.
"You feel for your guys, that's number one because we are all human," defensive end Akiem Hicks said. "But we know that we have to push forward and make sure that we stay together. We need to keep pushing toward our goal."
The Bears won't get any sympathy from opponents because injuries are piling up. The Cowboys team they face on Sunday lost their starting quarterback, Tony Romo, to a back injury in the preseason. Division rival Minnesota saw star running back Adrian Peterson leave their Week 2 game after tearing his meniscus, just weeks after their QB, Teddy Bridgewater, saw his entire season ended with a torn ACL. Like those teams, Chicago will have to re-group and do whatever it takes to get a winning product on the field.
"This is a contact sport. Day in and day out, you see guys falling off," said linebacker Willie Young. "No one cares about somebody going out because it's 11 guys that train together, we go to battle together from Day 1. And that just means somebody has to pick it up.
"We hate to see a soldier go down. But at the end of the day, we just have to figure out how to get the W."