Tarik Cohen wasn't the only one who thought he scored a walk-off touchdown a minute into overtime of Sunday's game against the Pittsburgh Steelers. Cohen's teammates also thought the game was over, after Cohen darted and dashed through the Pittsburgh defense for 73 yards. The 62,000 fans in attendance surely thought the game was done, too, as they cheered and sang a Chicago victory. But after referee Clete Blakeman ruled that Cohen's right heel stepped out at the Steelers' 37-yard line, the Bears offense had to return to the field, the game still tied at 17.
Two plays later, the celebration resumed. Jordan Howard ran off right guard for an 18-yard gain, and then took the next snap the final 19 yards to the end zone for the game-winning score. Chicago's 23-17 victory marked the team's first win of the season, and highlighted what a dominant rushing attack can do for an offense.
"I think of us as thunder and lightning," Cohen said of his partnership with Howard. "When he's in there, punishing the linebackers, punishing the DBs. And then I can come in there and break a big play. And just feed off him and he can feed off my energy."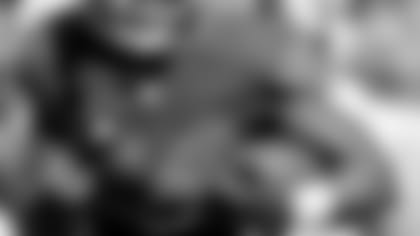 Bears running back Jordan Howard.


Combined, the two Chicago backs did a terrific job wearing down the Pittsburgh defense. Howard finished with 138 yards on 23 carries, scoring two touchdowns on the ground. Cohen had 78 yards on 12 attempts. The last time Chicago had two players with 10 or more carries and average 6.0 or more yards per rush in a single game was exactly 28 years ago, September 24, 1989, when Neal Anderson and Brad Muster did that in a 47-27 victory at Detroit.
The pairing of the two runners was the difference for the Bears, especially in overtime. Each of Chicago's four plays in the extra session had the ball going to Howard or Cohen. All of the running, plus the 85-degree heat, wore down the Pittsburgh defense. The Bears knew their opponents was running out of gas, and the offense emphasized taking it right to the fading Steelers.
"(Pittsburgh's) defense was very tired, especially after that Tarik run. That just took everything out of them," said Howard, who was second in the NFL in rushing as a rookie in 2016. "We just had great ball movement all game. The O-line got great push, the tight ends, receivers, everyone did a great job blocking downfield."
"Running the ball, that's going to do that to a defense," added Cohen. "When we are running it as well as we did, that's going to wear a defense down."
For the final play, the Bears went to a bread-and-butter call that had worked well for them all afternoon. Howard took the handoff from Mike Glennon going to his right, leading the defense in that direction, before cutting back left. By the time he'd made his move, left tackle Charles Leno and tight end Adam Shaheen had cleared a hole large enough to drive a minivan through. Howard darted through it, then dashed to the sideline behind a Deonte Thompson block. From there it was nothing but green grass and a Chicago victory.
"I couldn't believe it – I had to look back to make sure there wasn't any flags," Howard said. "Because that's like a dream come true, you always dream about stuff like that, but it never happens. So that was crazy.
"I saw a lot of open field. I saw (Thompson) with a great block on the corner. I felt like if I can get around there, I can make it. Then I got around him and I saw the safety coming, but I knew I was going to get to the end zone before him."
Howard's run won the game, but Cohen's amazing play preceding it should not be forgotten. His burst also came on a counter play, as he started to his left before shifting right. The rookie then eluded a Pittsburgh defender with a juke and took it into another gear, bursting down the sideline. He eventually cut back and embarrassed a few more Steelers with shifty moves, though the run was called back because the officials said he went out.
"The guy didn't get the 'human joystick' moniker for nothing," coach John Fox said. "He bounced out. He's done that a couple times in a very short season."
Together, Howard and Cohen led the Bears to a dramatic win, and showed the fans what this offense can be when it's clicking correctly.
"When (Howard) beats up a defense, I can come in and spark it up and maybe have a big run here and there," Cohen said. "And then he can get in there and do what he does; be the running back he was last year."