Brian Hoyer's familiarity with those he'll be working closest with helped lure the veteran quarterback to the Bears.
"It was a great opportunity," Hoyer said Monday at Halas Hall, two days after agreeing to a one-year contract to back up Jay Cutler.
"I had been with [offensive coordinator] Dowell Loggains in Cleveland and oddly enough [quarterbacks coach] Dave Ragone is from the same high school I am, so I had a lot of connections there. I've gotten to know Jay over the years just playing against him. I thought it was a good opportunity to play behind him and be a part of a great organization."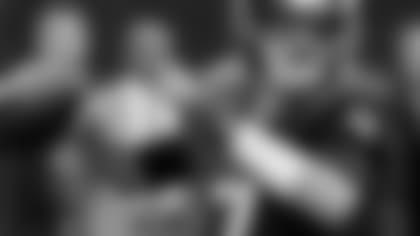 Quarterback Brian Hoyer has a career 82.2 passer rating in 43 games with 26 starts.


Hoyer, 30, has played eight NFL seasons with the Patriots (2009-11), Steelers (2012), Cardinals (2012), Browns (2013-14) and Texans (2015). The 6-3, 215-pounder has appeared in 43 games with 26 starts, completing 58.1 percent of his passes for 7,163 yards with 38 touchdowns, 26 interceptions and an 82.2 passer rating.
Hoyer's most expanded playing time came in 2014 when Loggains was his position coach with the Browns. Hoyer appeared in 14 games with 13 starts, completing 55.3 percent of his passes for 3,326 yards with 12 TDs, 13 interceptions and a 76.5 passer rating.
"Today was my first day, so [I was] kind of reminiscing back to when I was with [Loggains] in Cleveland," Hoyer said. "He's a smart guy. He knows a lot about offense and football. So to get back out there with him today was really cool."
Hoyer had his best season as a pro last year with the Texans, connecting on 60.7 percent of his passes for 2,606 yards with 19 TDs, seven interceptions and a 91.4 passer rating while playing in 11 games with nine starts.
Hoyer is excited to work with Cutler on and off the field.
"He's been great," Hoyer said. "He was one of the guys that welcomed me here. I had dinner with him Saturday night. It's good to have a good quarterback room."
After being uncertain where he'd play in 2016, Hoyer was happy to participate in offseason workouts for the first time Monday at Halas Hall.
"For me, it was just exciting to get back out and play football," Hoyer said. "It's kind of been a tumultuous offseason, so to be a part of a team and go through workouts and be around the guys and just kind of have one common goal it's been fun."