The Bears hope that safety Eddie Jackson and running back Tarik Cohen contribute on their respective sides of the ball as rookies. But the fourth-round draft picks also could make an impact returning punts.
Jackson didn't handle those chores at Alabama until his senior season last year, but he made the most of the opportunity. The 6-foot, 201-pounder averaged 23.0 yards on 11 returns with two touchdowns, dashing 85 yards against Mississippi and 79 yards versus Tennessee.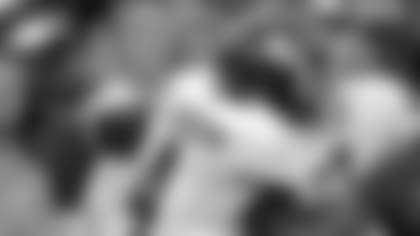 Bears fourth-round pick Eddie Jackson could make an impact returning punts.


"Eddie's been productive," said Bears special-teams coordinator Jeff Rodgers. "Last year he was over 20 yards a return. He got into the end zone twice against SEC teams. That's not a slow conference. He's a little bit inexperienced, but his production is off the charts."
Jackson figures to get a chance to return punts in offseason practices once he fully recovers from a broken leg he suffered last Oct. 22 while returning a punt against Texas A&M.
"Anytime that you have a rookie returner or anytime you have an inexperienced guy, there are things that you've got to go through," Rodgers said. "He's at least a guy who has returned before in games, so some of those questions get answered [in terms of] decision-making, situational stuff, communication. In addition to just catching and running, there's a lot of things that go into that stuff."
Jackson hopes to continue returning punts with the Bears. "I like it a lot," he said. "That's something I did when I was younger in high school as well. I asked coach [Nick] Saban when I first got [to Alabama]. I wanted to see if he would give me a chance, but it took four years."
Cohen, meanwhile, returned punts and kickoffs in high school but was not used in that capacity at North Carolina A&T because the Aggies had a talented returner in Khris Gardin and coaches didn't want to risk getting their star running back injured.
Cohen did return one punt last season after Gardin had sustained an injury in an Oct. 15 game against Bethune-Cookman. The 5-6, 179-pounder dashed 67 yards for a touchdown, but the play was nullified by a penalty.
"He's fast," Rodgers said. "He's got verified speed. He's got quickness. Size-wise, he's short, but he's not thin. He's a little bit thicker. For a shorter guy, he's got big hands and that will help. Some guys who are shorter have smaller hands, smaller arms, things like that. So there's not as much surface space for a guy to catch. We like his athletic traits."
The Bears are looking to replace last year's primary punt returner, Eddie Royal, who was recently released. Others on the roster who have experience in that facet of the game include receivers Markus Wheaton, Rueben Randle, Kendall Wright and Daniel Braverman; and defensive backs Cre'von LeBlanc and Bryce Callahan.
As a team, the Bears ranked 19th in the NFL last season in punt returns with an average of 8.0 yards.