Rookie safety Eddie Jackson again showed his ball skills, instincts and range in practice Wednesday, dashing to the sideline to pick off a pass intended for receiver Josh Bellamy.
It was nearly a carbon copy of the interception the fourth-round draft pick produced in Sunday's workout when he made a quick break on the ball and knifed in front of receiver Rueben Randle.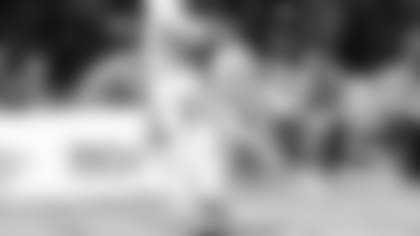 Safety Eddie Jackson breaks up a pass during a recent drill at training camp in Bourbonnais.


Jackson is having an impressive training camp after being limited in OTAs while recovering from a broken leg he sustained while returning a punt last season at Alabama.
"We were just being smart with him in the OTAs," said coach John Fox. "He wasn't really ready physically, so we didn't want any setbacks that way. But he's a very sharp guy, very aware player, especially for a young guy.
"Kids who come out of Alabama get pretty much a good taste of a pro defense, in particularly from a coverage standpoint, Nick [Saban] having been a secondary coach in the NFL for a long time. So they're well-schooled, and like I mentioned earlier in camp he's been a return man and particularly tracking punts. Typically, those guys—going as far back as a guy like Rod Woodson—they have good ball skills and he seems to do that pretty naturally."
Jackson had a knack for finding the end zone on both defense and special teams the past two seasons in Tuscaloosa, scoring three touchdowns on interception returns of 50, 93 and 55 yards and two TDs on punt returns of 85 and 79 yards.
Asked whether he expects it will be difficult for Jackson to contribute both on defense and as a punt returner as a rookie, Fox said: "I think his football maturity level is pretty high, so I think he'll adapt pretty quickly."
Welcome back: Pro Bowl guard Josh Sitton participated in his first training camp practice Wednesday, having rejoined his teammates in Bourbonnais following the birth of his first child.
"It was good to get Josh Sitton back out there for his first action this training camp," Fox said. "He did individual, some of the walkthrough. It was just good to have him back and get him out there ready to go."
Sitton is entering his second year with the Bears after spending his first nine NFL seasons with the rival Packers. He was signed a week before the regular-season opener last summer after being released by Green Bay.
"Training camp's not always the most fun, but it's always good being back and being around the guys and getting back to work," Sitton said. "Even when it's hot and difficult, you still enjoy it and you still enjoy that bond with the guys. I think that's probably the biggest thing about training camp is building that chemistry as a team and building that bond as an offensive lineman."
Taking a look: After working exclusively with the third-string offense the first week of training camp, rookie quarterback Mitch Trubisky flip-flopped with Mark Sanchez and took second-team reps Wednesday.
Fox downplayed the move, stressing that the Bears shuffle players around to different spots during the course of camp.
"Don't read much into it," Fox said. "It's just a matter of getting guys through different centers, different groups. It's something that we mentioned would happen at some point throughout the camp."
Stepping up: Receiver Kevin White had one of his better practices Wednesday, making several impressive catches, including receptions from Mike Glennon on three of the first four plays in team drills.
"I think you'll see Kevin get better every day," Fox said, "because he's been out there, been healthy and I think that's kind of a natural progression."
Now healthy, White is attempting to rebound from serious leg injuries in each of his first two NFL seasons that have forced him to miss 28 of 32 games.
"I'm sure there's some frustration level, to be somewhere two years and played [four] games," Fox said. "That would frustrate a Good Humor man. But he's battled it. He's tough-minded. He's a competitor. He's got physical skills. Now it's just a matter of practicing football and getting better."