Bears safety Eddie Jackson has been named the NFC Defensive Player of the Week for his performance in last Sunday's 17-3 win over the Carolina Panthers at Soldier Field.
The rookie fourth-round pick staked the Bears to a 14-0 lead by scoring touchdowns on a 75-yard fumble return and a 76-yard interception return. In the process, Jackson became the first player in NFL history to record two defensive TDs of at least 75 yards in a game.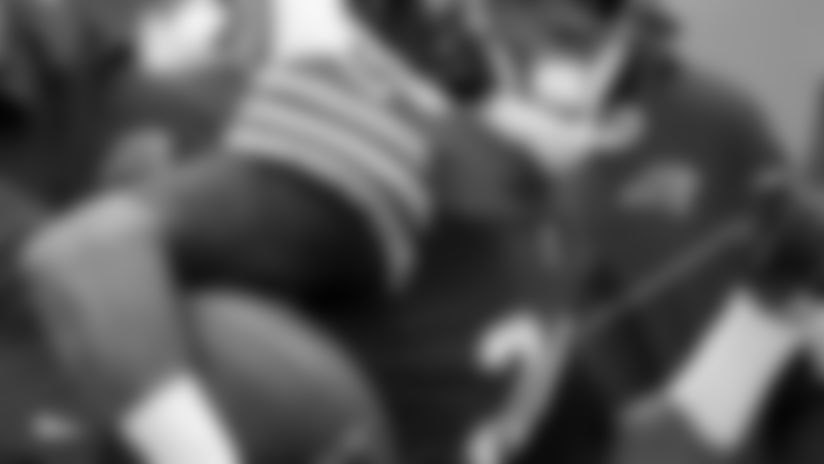 Bears safety Eddie Jackson drops back in pass coverage against the Panthers.


"I think you saw what he brings to the table when he gets the football in his hands," tight end Zach Miller said after the game. "He's a playmaker. He's all over the football field. Eddie 14, Carolina nothing at one point. Hell of a game by him."
Jackson also became the first player in Bears history to score two defensive touchdowns in a game since Fred Evans on Nov. 28, 1948. Evans returned fumbles of 10 and 16 yards just :53 apart in the first quarter of a 48-13 rout of the Washington Redskins at Wrigley Field.
Jackson's first touchdown came on the game's opening possession. On first-and-10 from the Bears' 24, Cam Newton faked an inside handoff and pitched to receiver Curtis Samuel, who failed to secure the ball. Jackson scooped it up and raced down the left sideline to the end zone.
Jackson struck again early in the second quarter, swooping in to intercept a Newton pass intended for receiver Kelvin Benjamin that was broken up by Prince Amukamara. The ball caromed high into the air and was caught by Jackson, who faked out Newton with a nifty juke.
Jackson felt the key to recording his first NFL interception was "breaking on the ball," and he credited Amukamara for creating the turnover, saying: "Prince made a great play. I owe it all to him and I was just able to make something happen out there."
Jackson joked that he wasn't going to let Newton bring him down.
"He's the quarterback," said the Alabama product. "It's like if you're a punt return guy; they always say don't get tackled by the punter. When you're a DB and you make an interception, don't get tackled by the quarterback."
Jackson is the first Bears player to win NFC defensive player of the week honors since defensive end Akiem Hicks did so in Week 13 last season. Jackson is also the third Bears rookie to win a player of the week award since 2014, following cornerback Kyle Fuller in Week 2 in 2014 and running back Jordan Howard in Week 8 last season.
Which Eddie Jackson touchdown against the Panthers was more exciting?
76-yard interception return