Hours after agreeing to a four-year contract with the Bears Wednesday, veteran defensive end Jared Allen discussed the move via a statement released by his management agency.
The five-time Pro Bowler joins the Bears after spending his first 10 NFL seasons with the Chiefs (2004-07) and Vikings (2008-13). He arrives after averaging 14.5 sacks over the past seven years, twice leading the league with 15.5 in 2007 and 22 in 2011.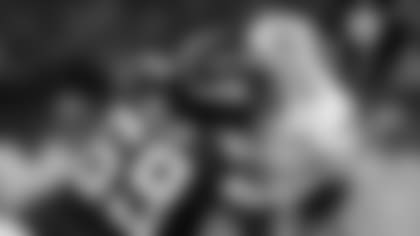 New Bears defensive end Jared Allen will continue to wear jersey No. 69 with the club.
"I'd like to take a moment to thank my former teammates, coaches and the staff at the Minnesota Vikings for all of their inspiring work and dedication," Allen said in the statement.
"Perhaps more importantly I would like to thank the fans and the Minnesota community. I can only hope that I have left with you all with even a fraction of the positive support and impact you have had on my life, my foundation and my family.
"I am very excited about this next chapter in my career with the Chicago Bears and can't wait to see what the future holds for us. God bless."
The Bears are scheduled to introduce Allen at a press conference Monday afternoon at Halas Hall.
After news of the signing broke early Wednesday, current and former Bears and others took to Twitter:

Yessssssss Jared Allen!!! Man did we make some moves this offseason #⬇️ — Nate Collins (@BIGN98) March 26, 2014
Bears defense is better today than it was yesterday. Jared Allen brings consistent pressure, great work ethic and leadership. — Tom Waddle (@TWaddle87) March 26, 2014
So Jared Allen is a Bear, Julius Peppers is a Packer, and the NFC North becomes even more interesting. — Adam Schefter (@AdamSchefter) March 26, 2014
Four years for Jared Allen to the #Bears. Quite the seismic shift in the NFC North defensive landscape this spring. — Ben Goessling (@GoesslingESPN) March 26, 2014