Bears defensive end Jared Allen returned to practice on a limited basis Wednesday and hopes to play in Sunday's road game against the Carolina Panthers.
The 11-year NFL veteran confirmed that he felt sick heading into the Bears' Sept. 22 Monday night game against the New York Jets and was then diagnosed with pneumonia two days later. Allen recorded eight tackles and three quarterback hits in his team's 27-19 win over the Jets.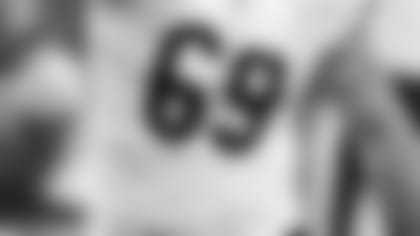 Jared Allen's 128.5 career sacks are the most by any player since he entered the NFL in 2004.
"I don't know how these things happen," Allen said. "I just know that they caught it early enough that I didn't have to go to the hospital. The doc was great and they got me on meds right away and got me to where I can hopefully be back for this game."
Allen told reporters that he was feeling "much better" and is working to regain strength and bulk. He lost 15 pounds from 254 to 239 and weighed in at 241 Wednesday morning.
"Hopefully my weight will come back in the next day or so," Allen said. "It was probably three days on the meds before the fever broke and then I was trying to get rid of the cough and hacking stuff up and all that good stuff. I can't say anything but great things about the docs, and my lovely wife was doing a good job of taking care of me at home."
Allen participated in individual drills and sprinted on a treadmill Wednesday. He said that he's "more concerned about recovery time with my lungs" than regaining the weight he lost.
"Everything feels good right now," Allen said. "I'm going to go get another lift in right now, so I think it's just eating and rehydrating and getting all that weight back on and hopefully I'll be back up by this weekend."
Sitting out last Sunday's game against the Packers snapped Allen's streak of 113 consecutive starts, dating back to 2007 when he was suspended for the first two weeks of the season while playing for the Kansas City Chiefs. Prior to this year, Allen had missed only one game with an injury or illness, and that came during his rookie season with the Chiefs in 2004.
"It was brutal, it was miserable, especially against the Packers," Allen said. "I've played through a lot of things and there's just certain things you can't do. It was a long-fought battle whether I was going to be able to give it a go or not, but at the end of the day, it's one of those things you don't want to come back and then end up in the hospital.
"So after talking with doctors and my wife and everybody and getting on the same plan, we really thought that was the best plan of attack, and it was. I wouldn't have been worth anything out there."
Without Allen, the Bears failed to generate any semblance of a pass rush against the Packers, enabling Aaron Rodgers to pass for 302 yards and four touchdowns in leading Green Bay to a 38-17 win.
"It's tough if you're not used to playing Aaron," said Allen, who has registered 16 sacks in 13 career games against the Packers.
"He's a tough guy to play against because he gets you in a rhythm of quick release, quick release, quick release, and the next thing you know he's holding it for five seconds and your rush kind of changes to down the middle because you're just trying to affect a quick throw and get your hands up. The next thing you know he's back there patting the ball and making you look foolish."
Allen, who missed time in training camp and the preseason due to a shoulder injury and the birth of his second child, concedes that he's been unable to get into his regular groove. But felt he was making significant progress and hopes to pick up where he left off against the Jets.
"I was playing good ball," Allen said. "I was sad I missed [the Packers game] because coming out of the San Fran game and then the New York game I felt like I was really starting to get into the rhythm of this defense of where we were at stopping the run. And even though I didn't get [Jets quarterback] Geno [Smith] on the ground, I had some really good rushes in the fourth quarter and I really felt like my game was where it needed to be going into that week and I still feel that.
"It's a long season and I'm looking forward to these next 12 weeks. What else can happen? I've got the injuries out of the way. I've got the sickness out of the way. So let's go have fun."