The Bears shot themselves in the foot with four turnovers in last Sunday's loss in Detroit. But even with that sub-par performance, the offense appears to be vastly improved this season.
The Bears have scored at least 31 points in three straight games for the first time since 1965, and Jay Cutler opened the season by posting passer ratings of at least 90 in three consecutive starts for the first time since 2009.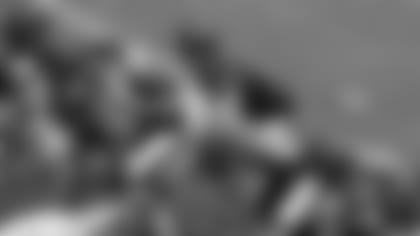 The Bears offensive line features four new starters and one returning veteran in center Roberto Garza.
Proving to be much more effective in an upright position than sprawled on his back, Cutler has only been sacked six times this season. In the first four games the previous three years, the Bears quarterback absorbed 17 sacks in 2010, 15 in 2011 and 13 in 2012.
Benefitting from generally good pass protection, Cutler didn't hesitate when asked to identify the biggest factor in the offense's improvement this season.
"The offensive line," Cutler said. "I think those five guys up front have to get the majority of the credit of where we're heading right now. They're doing a great job protecting and run blocking. We're throwing a lot of stuff at them and I think they've gelled quite nicely so far."
Center Roberto Garza is the only starting lineman who was with the Bears prior to this season. Left tackle Jermon Bushrod and left guard Matt Slauson were signed as free agents, and right guard Kyle Long and right tackle Jordan Mills were selected in the draft.
"Each week we're making a lot of big breakthroughs in our protection," said Long, who was chosen with the 20th pick in the first round of the draft. "Everybody has got something to work on and get better on and that's what we're trying to do. We're trying to improve every day."
Running man: Matt Forte has also benefitted from the revamped offensive line. The Bears running back ranks fifth in the NFL in rushing with 320 yards and three touchdowns on 69 carries.
"He's a great player," Cutler said. "He's one of the true professionals in this building on the field and off the field. He does great work to get himself prepared for a long season because we ask a lot out of him in the running game, in the passing game, asking him to block linebackers and defensive ends.
"He's our guy. We move him around and we try to save him as much as possible, but it's hard to save a guy like that whenever you want to give him the ball a lot."
Forte needs just 11 yards Sunday to pass Rick Casares as the third leading rushing in Bears history behind Walter Payton and Neal Anderson. Forte also has caught 23 passes for 160 yards this season and entered Week 5 as the only NFL player with at least 300 yards rushing and 150 yards receiving.
All business:Trestman was pleased with how his players responded this week in practice following their first loss of the season last Sunday in Detroit.
"We learned that we have the ability to go back to work, and I didn't notice any difference in the way we practiced this week than we did over the first three games," Trestman said.
"I think that's a good sign. The demeanor of our team was loose but professional. We were focused in the meetings. But we were also loose enough to be able to have some fun, because I don't think you can win without having fun during the course of the day and keeping your sense of humor. But when they were on the field, it was all business."
Misleading numbers: The Saints run defense ranks 22nd in the NFL, allowing an average of 112.3 yards per game. But there are some extenuating circumstances.
"Statistics can be a little bit deceiving when their offense is on the field as long as it is," Trestman said. "You can make stats a lot of different things. This is their first year basically in the defense. They've got three very thick guys. [Safety Kenny] Vaccaro's playing very well.
"I'm aware [that they're ranked 22nd], but I think that can be a little bit of a misconception when you see how physical these guys are at the line. They've got a bunch of bodies up there that can push the pocket, they're physical and they tackle."