Bears quarterback Jay Cutler remains week-to-week with a high ankle sprain and his status for next Monday night's game against the Cowboys is not yet known.
"We'll just see where he is," coach Marc Trestman said Monday. "I'm not sure where we are right now. He visited the doctor today and we'll know more Thursday or Friday. But we'll start with some limited work and see how he moves around, and we'll take it from there."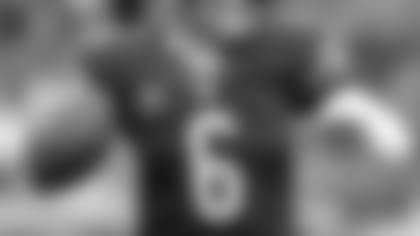 Jay Cutler has missed all or parts of the Bears' last six games with groin and ankle injuries.
Trestman is unsure whether Cutler will be able to practice this week, telling reporters that he would know more in the next 24 hours after speaking with team doctors.
Cutler has missed the last three games after getting injured Nov. 10 in a loss to the Lions. He sat out one contest prior to that with a torn groin muscle he sustained in an Oct. 20 defeat to the Redskins.
Playing the last six games in place of Cutler, Josh McCown has completed 120 of 184 passes for 1,461 yards with nine touchdowns, one interception and a stellar 103.6 passer rating.
Linebacker Lance Briggs, who has missed the last five games with a fractured shoulder, also remains week-to-week. He, too, will be further evaluated as the week progresses. Because the Bears play next Monday night, they will return to practice on Thursday, one day later than usual.
Trestman said that he isn't sure whether Briggs will be able to work out with his teammates this week and will know more about the linebacker's status on Thursday.
After missing Sunday's game with injuries, safeties Major Wright (hamstring) and Anthony Walters (groin) also will be monitored throughout the week. Guard Kyle Long sprained his ankle against the Vikings, but finished the game and is expected to play versus the Cowboys.