CLEVELAND – Bears receiver Alshon Jeffery has provided highlight-reel catches throughout a breakout season, and Sunday against the Browns was no exception.
With the Bears trailing 24-17 and facing third-and-11 from the Cleveland 45 early in the fourth quarter, quarterback Jay Cutler heaved the ball deep down the field to Jeffery.
It appeared that Browns safety Tashaun Gipson was in perfect position to record his third interception of the game. But the pass—which looked more like a punt—sailed over Gipson to Jeffery, who plucked it out of the air and dove into the end zone for a 45-yard touchdown.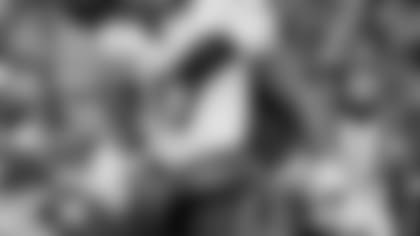 ](http://www.chicagobears.com/multimedia/photo-gallery/Browns-vs-Bears/64edfaaf-fe64-46f9-abb6-f0ca9d22f3cc)

Alshon Jeffery celebrates with Martellus Bennett after catching a 45-yard TD pass Sunday. Click to view photos from the game.
"Jay just got the ball out of his hand because he got hit," said coach Marc Trestman. "It kind of fluttered out and the fortunate part about it was he gave Alshon a chance to make a play. He threw it up high and gave him a chance to make a play and Alshon did what he does and that's jump in the air and use his strong hands to make plays, and that was certainly a huge play for us."
Jeffery has now made spectacular TD receptions in three straight games, previously scoring on catches of 46 yards against the Vikings and 25 yards versus the Cowboys.
"To watch Alshon make that catch, you're like, 'Oh my goodness, did he just do that?'" said Bears cornerback Zack Bowman. "Everybody on the sideline just kind of looked at each other. It was a heck of a catch."
Pick six: Bowman scored the defense's sixth touchdown of the season when he intercepted a Jason Campbell pass and returned it 43 yards on the opening drive of the second half.
"After halftime we talked about either getting a three-and-out or getting a takeaway," Bowman said. "When we came back out we were able to get the takeaway and we were very fortunate that we could also get six points off of it too."
Bowman raced down the left sideline and scored without being touched.
"When he threw the ball and I broke I was [thinking], 'Just catch it,'" Bowman said. "As soon as I caught it, I saw the end zone right in front of me and I tried to get there as fast as I could."
Having picked off Campbell in the second quarter as well, Bowman had two interceptions for the first time in 71 career games. He singlehandedly ended a drought for the Bears, who had generated only six takeaways in seven games after producing 17 in their first six contests.
When scoring a defensive touchdown, the Bears have won 12 straight games and 26 of 28 since 2005.
Cold shoulder: The weather at kickoff Sunday in Cleveland was 27 degrees with light snow and a wind chill of 14 degrees, thanks to a brisk wind blowing at 16 miles per hour.
"I was really pleased overall with our ability to come in here and play in weather," Trestman said. "The wind was a factor going right to left. We had the wind in the fourth quarter. I think that certainly didn't hurt us. It helped us."
Taking a stand: Trestman was also pleased that the Bears run defense allowed just 93 yards after yielding 198, 246, 258, 174, 145, 199 and 209 in its last seven games.
"We said it about three weeks ago: I said we were a work in progress," Trestman said. "We weren't fitting the run right and then we weren't tackling. A week ago we said we were fitting it. Today it appeared we tackled better. Our tackling was crisper. We ran through guys to tackle them. I thought it was better. We're just going to continue to work at it."
News and notes: The Bears went 4-0 against AFC opponents this season for the first time since 1986. … The Bears won for just the second time in nine games in Cleveland. … Jeffery (1,265) and Brandon Marshall (1,185) have now combined for 2,450 yards, the most by any two Bears receivers in history. … Linebacker Lance Briggs (shoulder) was the only player on the Bears' 53-man roster who missed Sunday's game with an injury. … Devin Hester had returns of 40 yards on a kickoff and 21 yards on a punt. … Linebacker James Anderson led the Bears with 11 tackles.