Although Alshon Jeffery will miss his third straight game Sunday due to a hand injury, the Bears rookie receiver hopes to be back on the field soon.
Jeffery's friend and former South Carolina teammate, Marcus Lattimore, isn't as lucky. The Gamecocks running back suffered a gruesome season-ending injury to his right knee last Saturday against Tennessee. It came about a year after he had sustained a torn ACL in his left knee that forced him to miss South Carolina's final six games.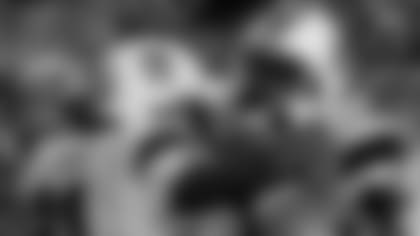 Marcus Lattimore (left) and Alshon Jeffery celebrate last season at South Carolina.

"I'm just sad that it happened," Jeffery said. "He was coming back from an injury. The ACL surgery didn't stop him and he was out there doing great things. As soon as I saw it happen, I couldn't believe it, not only because he's a football player, but he's a great person off the field."

Jeffery reached out to his friend, texting him shortly after Lattimore was injured and again Monday on the running back's 21st birthday.

The two South Carolina stars spent a lot of time together last year during their final season as teammates.

"We'll go to the lake and chill out," Lattimore told the Chattanooga Times Free Press at the time. "We'll go fishing. We'll go bowling. We do everything together."

Aches and pains: Jeffery is the only Bears player expected to miss Sunday's game against the Titans in Tennessee.

Linebacker Lance Briggs (toe), tight end Matt Spaeth (ankle) and tackle Jonathan Scott (groin) are all listed as probable after practicing Friday without restrictions.

For the Titans, starting right guard Leroy Harris (knee) is out and starting right tackle David Stewart (knee) is questionable. Linebacker Patrick Bailey (ribs) is also out; quarterback Jake Locker (shoulder) is doubtful; and cornerback Tommie Campbell (ankle) and linebacker Will Witherspoon (hamstring) are questionable.

Seven Titans starters are probable: receivers Kenny Britt (knee) and Nate Washington (knee), safety Michael Griffin (hip), linebacker Colin McCarthy (ankle), tackle Michael Roos (abdomen) and center Fernando Velasco (concussion).

No joke: Bears safety Chris Conte thought he was the victim of a prank when he saw a sheet of paper in his locker informing him that he had been fined $21,000 for an illegal hit that drew a 15-yard penalty in last Sunday's win over the Carolina Panthers. Unfortunately for Conte, it was authentic.

"I thought someone was playing a joke on me at first," Conte said. "I didn't think it was real at first. I thought it was a prank. Then I realized it wasn't a prank very quickly. It hurts a lot. That's a big chunk of the money that I make and I think it's kind of unfair to fine a guy that is still in his rookie contract that much money. But hopefully they'll look at it and at least get it reduced."

Conte said his agent is in the process of appealing the fine, which was assessed against him for hitting a defenseless receiver (Brandon LaFell) in the head. There didn't appear to be anything malicious about the play; Conte led with his shoulder and LaFell was bent over when he got hit.

"It obviously was contact with his head, but I don't think it was intentional or I wasn't leading with my head or anything," Conte said. "We'll see what happens. I don't exactly know how the whole process works. I've never been fined before. But hopefully it turns out the best for me."

Wright stuff: Titans rookie receiver Kendall Wright was among the prospects the Bears evaluated in this year's draft. The Baylor product was selected by Tennessee with the 20th overall pick in the first round.

"We thought he was a heck of a football player," said coach Lovie Smith. "He's from back in my home area, too, so I knew quite a bit about him. He's played well, too, in the league. The same things we saw in his college video he's doing in the league."

Wright has caught 40 passes for 351 yards and three touchdowns. His 19 receptions (for 183 yards and one TD) on third down this season are the most in the NFL.

"He has good quickness," Smith said. "He has a great vertical, so he can catch the football. I know they're very pleased with him and we'll have to deal with him."