No one was more excited to see Bears receiver Alshon Jeffery on the practice field Tuesday for the first time this offseason than right guard Kyle Long.
"I was so happy to see him this morning," Long said. "I was even happier when I saw him in the huddle and we were calling passing plays, and even happier when I'm seeing him make huge catches in traffic. I told him, 'Dude, it's great to have you back.'
"I understand he's dealing with all of that [contract] stuff, and that's none of my business. But to have him out here, the defense has been celebrating too much, so we put our secret weapon out there."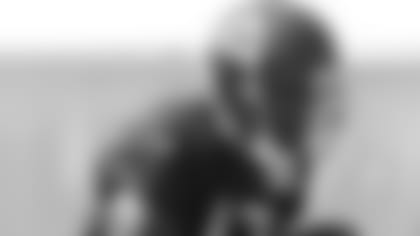 Bears receiver Alshon Jeffery during practice at Halas Hall on Tuesday.


After skipping the voluntary portion of the Bears offseason program, Jeffery reported to Halas Hall Monday for the team's mandatory minicamp, which consists of medical testing Monday and practices Tuesday, Wednesday and Thursday.
Jeffery signed the franchise tender he received from the Bears in March, guaranteeing him a contract for the 2016 season that's equal to the average of the NFL's five highest paid receivers. But he's still seeking a long-term contract.
If no deal is struck by July 15, Jeffery will play under the terms of the franchise tag this season. Asked whether he would be OK with that, the veteran receiver said: "That situation will take care of itself. I'm just here to play football. I'm under contract. I'm focused on football and the Bears organization."
Jeffery was selected by the Bears in the second round of the 2012 draft. He was voted to the Pro Bowl in 2013 after catching 89 passes for 1,421 yards and seven touchdowns and followed with 85 receptions for 1,133 yards and 10 TDs in 2014.
After appearing in all 16 games in both 2013 and 2014, Jeffery was limited to nine contests last year due to injuries to his calf, hamstring, groin and shoulder. He was productive when healthy, however, catching a team-high 54 passes for 807 yards and four touchdowns.
Prior to this week, Jeffery worked out on his own in South Florida. Asked why he made that decision, he said that he discussed the situation with his agent and they concluded "it was best for me to train somewhere else."
While Jeffery revealed that he worked on "some soft tissue issues" while training in Florida, the Bears receiver also said that he has followed virtually the same conditioning program.
"This is the game of football. There's a 99 percent chance you're going to get hurt," Jeffery said. "No matter what happens at some point in time everybody in the NFL has been hurt. It doesn't matter what you're going through or how you train, you're going to get hurt."
Jeffery lined up with the No. 1 offense and caught the ball well Tuesday, allying concerns that he has fallen behind teammates.
"It's good to have him here and he looks in good shape," said coach John Fox. "He looks ready to roll. Obviously we didn't take it to the limit the first day back, but I thought he looked good."
Although Jeffery is working with a new offensive coordinator (Dowell Loggains) and position coach (Curtis Johnson) this year, teammates aren't concerned that the time he missed will hurt him.
"Alshon is a pro," said quarterback Jay Cutler. "I've been around him long enough. I know how important football is to him. I know what kind of competitor he is.
"It could have been easy for him to come out here today and say, 'Hey, I haven't been here. I don't really know some of this stuff' and not taken the reps. But he was out there with us the whole time doing his thing. I'm not worried about [him being behind] at all. We're going to catch him up. He'll be ready."
"We know that Alshon is ready," Long said. "He walked in the door and you could just see that he's done a great job. To see him running around today has been great. What's in the past is in the past. It's Tuesday today, the 14th. Tomorrow is the 15th and I bet you he'll be out here making plays."