There was good news on the injury front Wednesday as Bears receivers Alshon Jeffery, Eddie Royal and Marquess Wilson all practiced on a limited basis, while defensive tackle Eddie Goldman and backup quarterback Jimmy Clausen worked out without restrictions after recovering from concussions.
Jeffery practiced for the first time since injuring his calf during a walkthrough Aug. 12, the day before the Bears' preseason opener against the Miami Dolphins.
"I thought it went well," said coach John Fox. "Our training staff felt he did well. We'll see how he feels overnight tomorrow, but it was encouraging to see him out there running routes."
After just one practice, it's unclear whether Jeffery will be able to play in Sunday's regular-season opener against the rival Green Bay Packers at Soldier Field.
"We just set it one day at a time," said Jeffery, who ranks fifth among NFL receivers with 2,554 yards over the past two seasons. "Whatever the trainers and the coaches say, we're going to roll with that."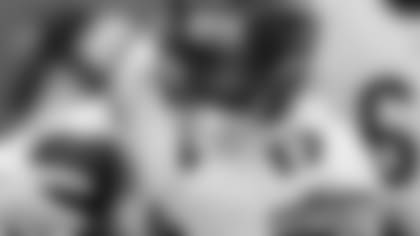 WR Alshon Jeffery practiced for the first time since a walkthrough Aug. 12.
Asked how the Bears will determine whether Jeffery will be able to play against the Packers, Fox said: "First of all, he's got to be healthy. He hasn't been out here for some time. Based on what I saw today, mentally he's on top of it and physically he looks like he's gaining ground."
It remains to be seen how much rust Jeffery must knock off after missing all four preseason games and four weeks of practice.
"We'll get a chance to evaluate that," Fox said. "We still have time before Sunday. That's why we're out here practicing. As I've said many times, I'd rather they're out here every day all the time. But that's not reality in this sport."
Jeffery was surprised that the injury sidelined him for so long.
"I didn't expect it to linger this long, but it happens," he said. "It's something that you've got to deal with and just move on and just keep getting better each and every day."
Jeffery vehemently denied an online report that his absence from practice was related to unhappiness with his contract, which is due to expire following the 2015 season.
"My contract situation has nothing to do with it," Jeffery told reporters. "It'll take care of itself. I wasn't at practice because I've been injured. If you've ever had a calf injury—any of you guys—you would know."
Royal (hip) and Wilson (hamstring) also are making their way back from injuries, having returned to practice on Monday. Royal missed nearly two weeks, while Wilson had been sidelined since getting hurt Aug. 22 in the first quarter of a preseason win over the Colts in Indianapolis.
Goldman's return to practice Wednesday provided a boost for the defense, which must overcome the loss of veteran lineman Jeremiah Ratliff early in the season. The four-time Pro Bowler was suspended by the NFL for the first three games for violating the league policy on substance abuse.
Selected by the Bears in the second round of this year's draft out of Florida State, Goldman is a mammoth 6-4, 332-pounder who possesses excellent size and strength.
"I've seen a lot of improvement in Eddie," Fox said. "A big reason why guys are on the 53-man roster—we cut down from 90 to 75—is they earned their spot and as I told them it's important that they keep that spot, so we've got to have continued improvement."
Fox is especially impressed with how Goldman has grasped the defense.
"Just knowledge of what we're doing; what we expect him to do, how we expect him to do it and being able to execute under pressure," Fox said. "He's earned where he is and he has improved throughout."
In other injury news Wednesday, outside linebacker Sam Acho (illness) and cornerback Tracy Porter (hamstring) did not practice, while linebacker Jonathan Bostic (ankle) was limited.
Roster move: The Bears on Wednesday signed rookie running back Bronson Hill to their practice squad. Hill entered the NFL this year with the Buffalo Bills as an undrafted free agent from Eastern Michigan.